29 October 2013 20:18 (UTC+04:00)
316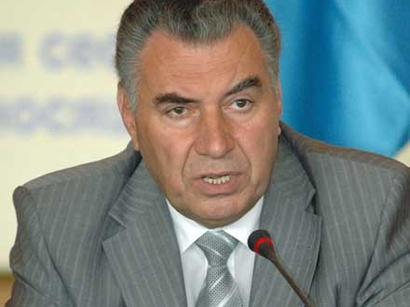 By Sara Rajabova
Azerbaijani Deputy Prime Minister Ali Hasanov has said the activity of the OSCE Minsk Group for more than 20 years has proved ineffective, and also made clear that Azerbaijan would liberate its Armenian-occupied territories by any means, including military action.
With regard to the Minsk Group's activity Hasanov was referring to the long-standing efforts of the team of international mediators working to broker a settlement to the Nagorno-Karabakh conflict between Azerbaijan and Armenia.
Hasanov, who chairs the State Committee for Work with Refugees and IDPs, said at an event dedicated to the 20th anniversary of the Zangilan region's occupation by Armenia that international organizations have passed the necessary resolutions on the Nagorno-Karabakh conflict, but unfortunately, none of them have been implemented yet. He said that if Armenia fails to take a constructive position and to fulfill the international organizations' resolutions on its pullout from the occupied territory, Azerbaijan will liberate its land by any means, including the military option.
He said this was highlighted by Azerbaijani President Ilham Aliyev.
"Azerbaijan and Azerbaijani President Ilham Aliyev are our sole support in case of such multi-vector standards in the world," Hasanov said.
Hasanov said that Armenians must be aware that the Armenian leadership will make them refugees in other countries.
He said Armenians must know they are temporarily living in the historical Azerbaijani lands.
"However, they continue to claim our lands and settle there. This injustice will never remain unpunished," Hasanov said.
President Aliyev said at the inauguration ceremony that not only the territory of Nagorno- Karabakh, but also the former historic lands of Azerbaijan such as Zangezur and Gokce will be freed over time, Hasanov said.
"We are sure because the latest presidential election showed once again that the Azerbaijani people support their president and this nation is united around him," Hasanov added.
October 29 marks twenty years of the occupation of Zangilan, an Azerbaijani region occupied by Armenian armed forces since a lengthy war in the early 1990s. During the Karabakh war Zangilan lost 188 people. So far, the region's 44 residents are among the people missing in the aftermath of the bitter conflict with Armenia.
Prior to the invasion 35,000 people lived in the Zangilan region, which covers an area of 707 sq. km.
Armenia's territorial claims in the late 1980s and the ensuing military aggression resulted in the occupation of 20 percent of Azerbaijani territory, including Nagorno-Karabakh, and also seven surrounding regions. More than a million Azerbaijanis became refugees and IDPs in the aftermath of the war between the two South Caucasus republics.
The UN Security Council's four resolutions on Armenian withdrawal have not been enforced to this day.
Russia, France and the U.S. have long been working to broker a solution of the Nagorno-Karabakh conflict through the OSCE Minsk Group, but their efforts have been largely fruitless so far.
Related News