27 August 2014 13:33 (UTC+04:00)
625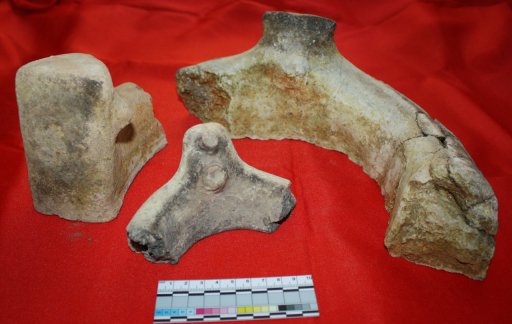 By Victoria Moiseyeva
Nakhchivan is one of the global settlements with the first civilization established during the Stone Age.
The ancient land of Nakhchivan is rich with classical, Middle Age and modern material-cultural examples and historical monuments. It hosts caves in which the primitive people lived, ancient settlements, early city culture, tremendous fortress walls, pictographies, stone ram monuments, tomb being the most masterly examples of memorial architecture and other historical monuments.
These monuments are valuable sources for us to learn the economic, social and moral life, custom traditions of our forefathers.
Recently, Azerbaijan archeologists discovered new artefacts in the ancient settlement Makhta-I, located on the territory of Sharur region of Nakhchivan Autonomous Republic.
The Head of Institute of Archeology and Ethnography Department of the National Academy of Sciences, Safar Ashurov said that on the territory of ancient settlement, Makhta-I, archeologists found facts related to the Early Bronze epoch.
The digging was carried out within the area of 300 square meters, and layer was investigated at the depth of up to three meters.
In the process of diggings, ruins of two stone circular structures were also found.
"Ash layer was found within one of the said circular structures, 30-40 centimeters thick. This means that the structure has dome-like wooden roof," Mr. Ashurov said.
"Earthenware of this epoch was represented by simple and colored tableware. This is demonstrated by red paint found on one article. Numerous articles made of stone, especially tools intended for grain thrashing, that were found in the course of digging, prove that people at that time were involved in arable farming and maintained sedentary lifestyle. Each structure in the ancient settlement had its own specific function," he added.
Nakhchivan is also known for its necropolis, located in the north of the city, on the left side of the highway Nakhchivan-Shahbuz. Graves drilled in the soil are of square-shaped, and directed to the north-south, east-west directions. There were couple and collective buries in the graves.
Black, gray, polychrome painted clay vessels, bronze bracelets, rings, earrings and beads made of different minerals were found from graves of Nakhchivan necropolis. According to the archeological dig, necropolis is related to the 17-15 centuries BC.
One of the ancient monuments of Nakhchivan is the petrographies of Gamigaya. This monument of the 4-1 millennium BC preserves and keeps the ancient history and culture of the Azerbaijani people in itself.
Related News