17 July 2017 13:59 (UTC+04:00)
2 737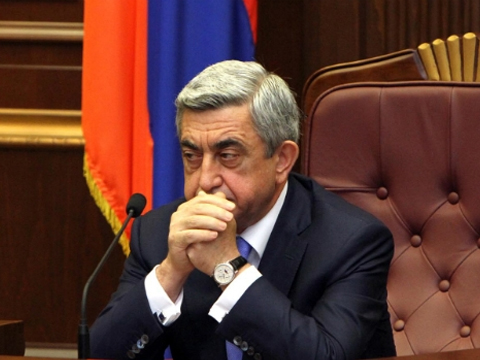 By Rashid Shirinov
Young activists in Armenia decided to go to streets to conduct survey among residents with only question "What do you think about Serzh Sargsyan?"
Obviously, young people in Yerevan were motivated by the logic that the people's opinion is the best way to learn the truth about the incumbent government.
"Nothing good" was the most often first answer of respondents. Among the reasons for such a negative attitude the majority of Yerevan residents called the deplorable socio-economic situation in Armenia, which forces many people to leave their homeland, as there is no decent pay in the country.
"This man is a traitor to Armenia and the Armenian people, the leader of the oligarchic junta which rules Armenia. He is a criminal and he should be in prison," said one of the residents.
"He patronizes everything bad that is happening in the country. All thieves' fraud occurs with his consent," answered another resident of Yerevan.
Some of the respondents assumed that Sargsyan wants to become the president for life, and called him "the shame of the nation."
"A gambler, an illegitimate president. We don't want to see him as the head of state," said another respondent.
The older generation noted the insufficient level of Sargsyan's statesmanship, and said they want to see as the president "a more presentable and respectable man, who is able to speak in public without reading from a piece of paper."
People also noted that they aren't satisfied with salaries in Armenia.
"I don't have proper education, not because I'm a bad student, but because the whole education system in the country is terrible," said a young girl. "Everybody is employed in our family but none is satisfied with their work."
Answering the question "Will you vote in the next presidential election?" majority of people responded negatively, explaining that they don't see a worthy candidate among the current Armenian politicians.
Thus, the attitude of Armenians towards their president has become clear from this survey. The people are aware of everything taking place in their country – they know that Armenia is ruled by a criminal team, which completely controls the destiny of the people.
Today, the Armenian authorities continue to take bribes, the elections in the country are as always falsified, the unemployment rate remains the highest among the former soviet countries. Due to all these and many other reasons, Armenians prefer to leave the country, rather than stay to live there and suffer from them for the rest of their life.
---
Rashid Shirinov is AzerNews' staff journalist, follow him on Twitter: @RashidShirinov
Follow us on Twitter @AzerNewsAz
Related News