Caruana defeats tournament leader Carlsen in Vugar Gashimov Memorial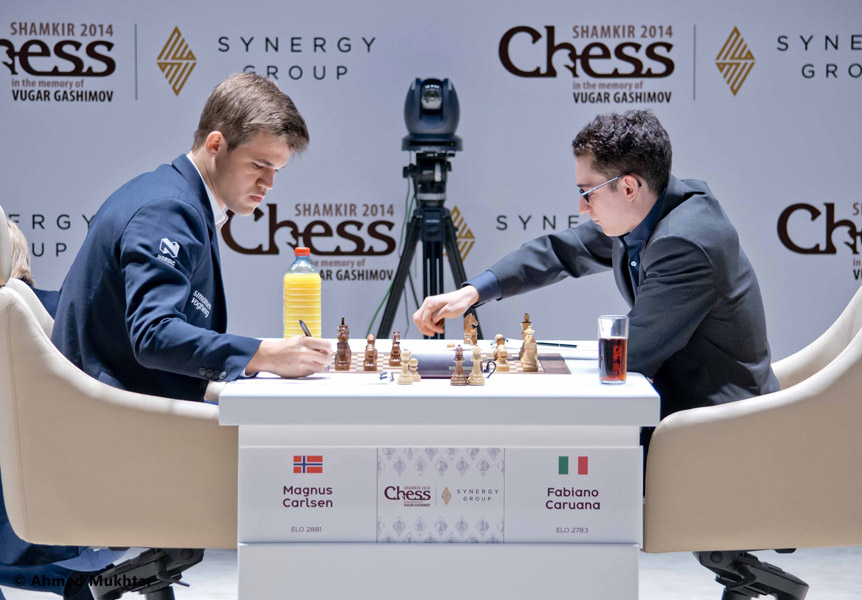 By Nazrin Gadimova
Tournament leader Magnus Carlsen was defeated by Fabiano Caruana from Italy during the fourth round of the Vugar Gashimov Memorial on April 24.
The reigning World Champion from Norway surrendered on the 52nd move and suffered a defeat in this rank for the first time.
Commenting on the victory of the Italian chess player, Carlsen said it was always unpleasant to lose.
"Honestly, I was in a bad mood for the whole day," he said. "But Caruana did everything well. I need to try to find a source of energy somewhere to play well tomorrow and relax on Friday."
Caruana, in turn, associated his victory with correct preparations.
"My opponent made a mistake. I correctly understood the situation and then won. The victory brought me pleasure. Victory over the world champion brings even greater joy. We have played a lot with Magnus Carlsen. To tell you the truth, there were sets in which I lost," the winner said.
The match between Azerbaijan's Teymur Rajabov and U.S. Hikaru Nakamura ended in a draw. The set between Russian Sergei Karjakin and Azerbaijan's Shahriyar Mammadyarov did not yield positive results either.
The Russian chess player said he considered the draw a normal result.
"Despite two defeats, Mammadyarov is a very strong player and dangerous for all," Karjakin said after the game.
The standings of tournament A after the fourth round are as follows: Carlsen, Caruana - 2.5 points, Karjakin, Nakamura, Rajabov - 2 points, and Mammadyarov - 1 point.
The tournament B's situation is slightly different. Azerbaijani grandmaster Gadir Huseinov defeated his compatriot Vasif Durarbeyli, Polish Radoslaw Wojtaszek won over Azerbaijani Eltaj Safarli, while Paul Elyanov (Ukraine) and Alexander Motylev (Russia), and Nijat Abbasov (Azerbaijan) and Etienne Bacrot (France) ended up in a draw.
Azerbaijan's Rauf Mammadov won over Chinese Wang Hao.
Standings after the round is as following: Bacrot - 3 points, Wojtaszek, Elyanov - 2.5 points, Abbasov, Huseynov, Mammadov, Motylev - 2 points, Wang Hao, Safarli - 1.5 points, Durarbeyli - 1 point.
The fifth round of the Shamkir Chess 2014 will be held on April 24. The tournament A will see following games: Shahriyar Mammadyarov vs Fabiano Caruana, Magnus Carlsen vs Teymur Rajabov, Hikaru Nakamura vs Sergei Karjakin, while Alexander Motylev vs Vasif Durarbeyli, Eltaj Safarli vs Paul Elyanov, Wang Hao vs Radoslaw Wojtaszek, Etienne Bacrot vs Rauf Mammadov and Gadir Huseynov vs Nijat Abbasov in the tournament B.
Shamkir Chess 2014 opened in the Heydar Aliyev Center on April 19 and will run until April 30.
The grandiose event, organized by JSC Synergy Group, is being held within the framework of the "State Program on development of chess in Azerbaijan in 2009-2014" and is dedicated to world-famous Azerbaijani grandmaster Vugar Gashimov who passed away as a result of a serious disease in January.
Money prize of the A tournament, sponsored by "Synergy Group" is 100,000 euros, while the prize fund for this tournament will be 30,000 euros.