Baku urges Yerevan to show political will for conflict settlement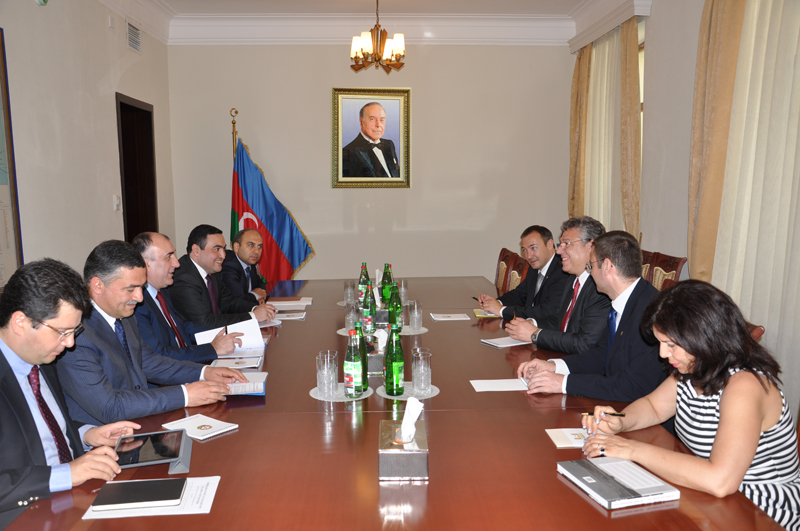 By Nigar Orujova
Azerbaijani Foreign Minister Elmar Mammadyarov said on July 1 that the Armenian side should show political will to achieve a solution to the Nagorno-Karabakh conflict.
Mammadyarov made the remarks at a meeting with President of the Swiss Council of States Filippo Lombardi, who is on a visit to Azerbaijan.
The minister said Azerbaijan is ready to start working on a peace agreement.
Mammadyarov stressed that the status-quo in the Karabakh conflict is unacceptable.
The Swiss side, in turn, pledged to be focused on the conflict settlement issue.
Following the meeting, Lombardi told journalists that Switzerland intends to pay much attention to the conflict during its OSCE chairmanship.
"Next year, Switzerland will chair the OSCE, while Azerbaijan chairs the Council of Europe," he said. "I discussed the interaction between our two countries during the talks with the Azerbaijani Foreign Minister," he said.
Lombardi expressed regret that the Nagorno-Karabakh conflict has not been resolved during the negotiations held for more than 20 years.
"We would be pleased if Switzerland succeeds in breaking the deadlock during its upcoming chairmanship in the OSCE," he said.
Lombardi went on to say that he highly appreciates the relations between the two countries and stressed that they are constantly developing.
During the meeting, the sides also discussed prospects of energy cooperation between Azerbaijan and Europe and noted the importance of bilateral relations.
The Karabakh conflict emerged in 1988 when Armenia made territorial claims against Azerbaijan. The two South Caucasus neighbors fought a lengthy war that ended with the signing of a precarious cease-fire in 1994. Armenian armed forces have since occupied over 20 percent of Azerbaijan's internationally recognized territory. Peace talks brokered by US, Russian and French mediators through the OSCE Minsk Group have been largely fruitless so far.
Armenia has not yet implemented the U.N. Security Council's four resolutions on a pullout from Nagorno-Karabakh and the seven surrounding regions.