14 June 2017 17:08 (UTC+04:00)
3 067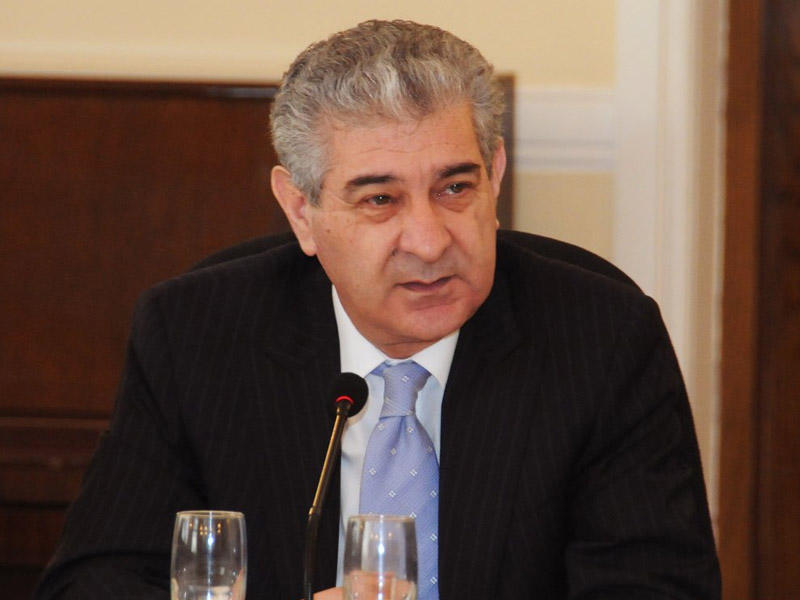 By Sara Israfilbayova
Thanks to the reforms, Azerbaijan will develop even more intensively, Deputy Prime Minister, Deputy Chairman and Executive Secretary of the New Azerbaijan Party, Ali Ahmadov said at an event dedicated to the Day of National Salvation - June 15.
Ahmadov noted that the celebrated date occupies a special place in the history of Azerbaijan, becoming a turning point in the fate of the Azerbaijani people.
"In the first years of independence, Azerbaijan faced anarchy, a threat of fragmentation and destruction, economic regression, international isolation. After the return of national leader Heydar Aliyev to the power upon the urgent request of the people, Azerbaijan was saved from these troubles, and embarked on the path of development," he stated.
Ahmadov added that the crisis in Azerbaijan in the 90s of the last century turned the life of every compatriot into hell. "The future seemed dark and unpredictable. All this prepared the ground for Heydar Aliyev's return to the power. Heydar Aliyev thanks to his wisdom and foresight, gradually found solutions to the problems, which were troubling people. It is not a coincidence that Heydar Aliyev is considered as the founder of modern Azerbaijan. Our economy began to develop, the oil strategy was successfully implemented," he said.
"Today's development of Azerbaijan, under the leadership of President Ilham Aliyev, is a continuation of the National Salvation," the Deputy Prime Minister noted.
Ahmadov went on to say that Azerbaijan is evaluated as one of the most successful countries that gained independence in the late 20th century. "Development of Azerbaijan can be considered as a miracle. Its economy grew 3.5 times. States, in which the annual growth of the economy is 3-5 percent, are proud of this. For 12-13 years, the growth of Azerbaijan's economy reached 300-350 percent."
He said that during the past 12-13 years, pensions were raised by 250 percent: "Today we can talk about raising the pension and this is natural. However, the achievements are visible. Today, under the leadership of Azerbaijani President Ilham Aliyev, the country is undergoing an economic transformation. The idea of ​​National Salvation conditions development. Today, Azerbaijan has moved from a strategy of non-renewable economic resources to a new strategy of renewable economic resources, to a strategy for new economic development. The economy of Azerbaijan will move to a new stage, it will achieve new opportunities for further increasing the level of people's well-being."
Azerbaijan marks National Salvation Day on June 15, the turning point and beginning of a new stage in the history of independent Azerbaijan.
The National Salvation Day celebrates the comeback of Azerbaijani President, great leader of the nation Heydar Aliyev from the Nakhchivan Autonomous Republic to Baku in 1993.
With the insistence of the people in June 1997 Milli Mejlis [Parliament] declared June 15 a national holiday.
---
Follow us on Twitter @AzerNewsAz
Related News