6 May 2016 17:31 (UTC+04:00)
2 327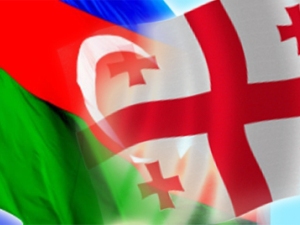 By Rashid Shirinov
Azerbaijan and Georgia will accelerate the goods transportation through their borders. With this regard the two countries have launched the project of supporting the development of Red Bridge checkpoint located on Azerbaijani-Georgian border.
"The transportation of goods through the Azerbaijani- Georgian border will be greatly accelerated," Ghulam Isaczai, the UN resident coordinator to Azerbaijan, said in an interview for Trend news agency on Thursday in the sidelines of the conference in Baku, dedicated the project.
The key objective of the project will be ensuring the border security and protecting goods quality. "Infrastructure of the checkpoint will be upgraded to succeed with the commitments. Moreover, the custom workers of both countries will pass through special refresher trainings," Isaczai noted.
He supposes that this project is highly important for Azerbaijan, Georgia and the European Union: "The project will bring together the two nations letting them vastly integrate into Europe."
Malena Mard, the EU Ambassador to Azerbaijan, said the project will take two years to complete.
"The EU allocated 2.7 million euro for the project, with 1.8 million being allotted to Azerbaijan. I think that the project is very important for the European Union because this corridor is a part of the Silk Road through which goods are transported from Asia to Europe," she mentioned.
Addressing the conference Aydin Aliyev, the head of State Customs Committee of Azerbaijan, said that the country needs the EU and UN support to further upgrade the Sadigli checkpoint as well, which is located on the border with Georgia. We need to turn this checkpoint into a corridor for international shipping."
The project of supporting the development of Red Bridge checkpoint is a joint project of United Nations Development Program and State Customs Committee of Azerbaijan. The project of 3 million euro will be funded by the EU.
---
Follow us on Twitter @AzerNewsAz
Related News