29 September 2015 09:00 (UTC+04:00)
1 477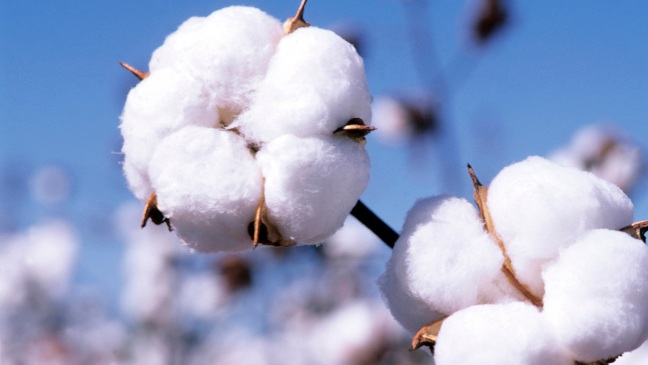 By Nigar Orujova
Azerbaijani scientists are working on creating more productive and resistance strains of cotton at the Azerbaijan Scientific-Research Institute of Cotton in Ganja.
Once a very productive sphere in Azerbaijan, the cotton production industry is now suffering from setbacks. Over the past 18 years, cotton production has decreased six times in the country. Moreover, the land volume used for cotton production fell by nine times.
Last year, the country produced 41,000 tons of cotton, while 15 years ago production was at 91,500 tons rising to 542,900 tons yielded in 1990. Peak cotton production was reached in 1981 with 831,200 tons of cotton produced.
Cotton is farmed in the Ganja-Gazakh, Lankaran, Aran, Karabakh, Kalbajar-Lachin, Daghlig Shirvan economic regions of Azerbaijan.
At present, the Ganja Institute's selection department is carrying out a series of tests of several foreign and domestic varieties of cotton.
The head of the department, Aladdin Tagiyev, said there was a time when Azerbaijan produced nearly 1 million tons of cotton, while today the weakening interest to cotton and decline in its production is regrettable.
Scientists, however, continue to conduct successful research in this important plant, and these efforts are bearing fruit, he said. "The tests have been completed successfully on varieties of cotton that grow more quickly and are disease-resistant."
For instance, the Ganja-110 and Selekt varieties differ from Assos and Christina types brought from abroad in their maturity periods, yield, fiber yield, fiber length, as well as in resistance to pests.
Currently, negotiations are underway to provide these strains to cotton producers. These types of cotton are slated to grow in several regions of the country by next year.
Statistics show that only 18,800 hectares of Azerbaijani fertile land were taken up by cotton in the first half of this year.
Azerbaijani experts in agriculture say that the decrease in interest in cotton resulted from the falling of cotton prices in world markets and the low profitability margins of cotton production. Moreover, an increasing use of artificial materials worldwide has negatively affected the cotton-growing sector.
The decline of cotton-breeding has also inflicted loses on farmers, leading to unemployment especially in the regions.
To stand against this tendency, Azerbaijan has started to import more productive varieties. As a result, the decline in production is lower than the reduction in acreage. Yields have increased with the usage of more productive technologies and varieties. To reduce the cost of production, companies engaged in cotton production in the country began to use new harvesting technologies.
Experts also warn that yield losses in cotton production can have serious consequences for agriculture of Azerbaijan. Recently, the practice of sharing crops was introduced to Azerbaijan, where cotton was replaced with wheat. Today, the cotton-wheat system is replaced by the wheat-wheat one, which ultimately reduces the yield of wheat.
The companies that specialize in cotton production buy cotton with seeds that are very valuable. In the livestock sector, the cottonseeds are very much appreciated. Along with this sector, it is also used to produce oil.
Depending on types of cotton, 1 ton of the product is received from 380 to 330 manats ($363-$315) in Azerbaijan.
According to the USDA National Agricultural Statistics Service, the average price received by farmers for Upland cotton in June was 65.10 cents per pound in the 2014-2015 marketing year.
The decrease in price is noticeable, as in the 2013-2014 marketing year, the average price was 77.90 cents.
To boost this sphere, new technologies, minerals, and varieties are needed to lower the cost of cotton production. In this case, Azerbaijani cotton would be competitive in world markets.
__
Nigar Orujova is AzerNews's staff journalist, follow her on Twitter: @o_nigar
Follow us on Twitter @AzerNewsAz
Related News