Azerbaijan,Israel seek to boost trade ties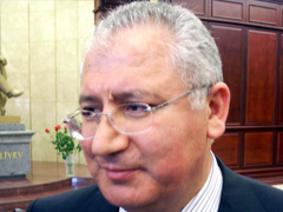 By Aynur Jafarova
Azerbaijani Agriculture Minister Heydar Asadov is on a three-day visit to Israel to discuss future directions of cooperation between the two countries in the agricultural sphere.
During the visit, the minister held a meeting at Israeli Ministry of Agriculture and Rural Development.
The parties exchanged views over the structure of agriculture and Israel's agricultural policy, as well as administration system, government support to the agrarian sector.
The minister also visited the Center for International Agricultural Development Cooperation (CINADCO). The participation of Azerbaijani agricultural specialists in the training courses organized by the CINADCO was among the discussed issues.
Also, Asadov met officials of the Israel-Azerbaijan Chamber of Commerce and Industry and representatives of the agrarian industry to discuss investment opportunities in this sector.
Asadov is scheduled to meet Israeli Foreign Minister Avigdor Lieberman as well.
Diplomatic relations between Azerbaijan and Israel were established in April 1992.
Azerbaijan's State Customs Committee has reported that trade turnover between Azerbaijan and Israel in 2013 reached $1.28 billion. Azerbaijan exported $1.26 billion worth of products to Israel last year, while Israel's exports to Azerbaijan amounted to $17.59 million.
Azerbaijan and Israel are focusing on many areas, and the four areas that will be relevant are telecommunications, agriculture, water supply and medical technologies.
Israel recently discovered gas fields onshore and intends to use the experience of Azerbaijan in this regard. Israel is also willing to assist Azerbaijan in the diversification of its economy.