Uzbekistan's agricultural sector ups by 6.8 percent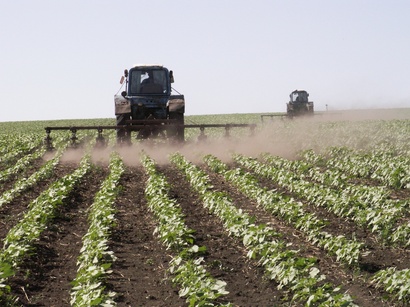 By Vusala Abbasova
Uzbekistan's gross output of agriculture increased by 6.8 percent in the first half of this year, compared to the same period last year. The figures were reported at a board meeting of the Uzbekistan Ministry of Agriculture and Water Resources held in Tashkent last week.
Shukhrat Teshaev, Uzbekistan Minister of Agriculture and Water Resources noted the growth rate of industrial production amounted to 149.0 percent, while the growth rate of consumer goods grew by 6.5 percent.
The country's export of goods was 121.5 percent of forecast figures, Teshaev mentioned at the meeting.
Following the meeting, the participants discussed measures to implement tasks in the agricultural sector, assigned by the Cabinet of Ministers on July 16, 2015.
They decided to improve efficiency in food security, growing cotton and other crops, water use, and placement and sowing of winter crops for next year's harvest.
Country's GDP grew by 8.1 percent in the first half of 2015. Industrial and agricultural production increased by 8.1 percent.
The volume of exports has increased by 7.4 percent for the reported period.
Uzbekistan is one of the world's biggest flour importers. According to the International Grains Council (IGC), its imports will stand at an unchanged 1.3 million tons in 2015-2016.
Uzbekistan is now the world's fifth largest cotton exporter and sixth largest producer, according to the CIA World Factbook.
The export of natural gas, gold and cotton provides a significant share of foreign exchange earnings of Uzbekistan's economy.
---
Follow us on Twitter @AzerNewsAz