27 February 2015 17:18 (UTC+04:00)
1 929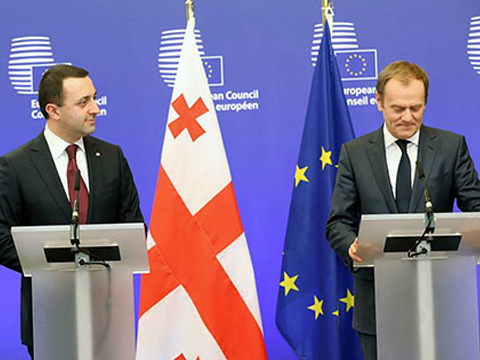 By Mushvig Mehdiyev
Georgia is one of the foregoers of the Eastern Partnership, said a top European Council official, adding that rather than a praise the remark was a mere fact.
European Council President, Donald Tusk also praised the visa liberalization progress taking place in between Georgia and the EU at a meeting with Georgian Prime Minister Irakli Garibashvili in Brussels on February 26.
Georgia's implementation of the EU-Georgia Association Agreement, which was signed in June 2014, was the main topic of discussion on the day.
"We are making a good progress. We are now awaiting the results and recommendations of the ongoing expert missions. And I hope that at our next meeting in Riga, we can be successful in this context," Tusk said.
From the European Council perspective, Tusk emphasized several fields where successful reforms will be key points for Georgia's implementation of the AA.
"The time has come for Georgia to substantially advance its reform agenda in vital areas such as the rule of law and the judiciary, including the creation of an independent prosecutor's office. Fostering a political climate based on respect and cross-party dialogue is another key area," Tusk stressed.
Garibashvili said the European integration was a choice of the Georgian nation emphasizing that the government's final goal was to successfully integrate into the EU.
"Georgia has an ambition to become an example of success in the region and to demonstrate the transformative power of European integration. I would like to underline that the Association Agreement does not constitute the end-point of our relations with the EU, but it paves the way towards the future progressive development of EU-Georgia cooperation," Garibashvili said.
Regional security was also at the forefront of the meeting held at the European Commission headquarters in Brussels.
Garibashvili assessed the existing situation in Ukraine as the continuation of Russian aggression towards Georgia in 2008.
"The current crisis in Ukraine is a matter of great concern and heavily aggravates security issues on the European continent," Garibashvili said.
Tusk, in turn, reconfirmed that the EU supports Georgia's territorial integrity within its internationally recognized borders.
Meanwhile, the Press Office of the Georgia's Prime Minister released a statement saying that Tusk will probably visit Georgia before the upcoming Eastern Partnership Summit in Riga in May 2015.
- - -
Follow Mushvig Mehdiyev on Twitter: @Mushviggo
Follow us on Twitter: @AzerNews
Related News