18 September 2017 18:02 (UTC+04:00)
2 847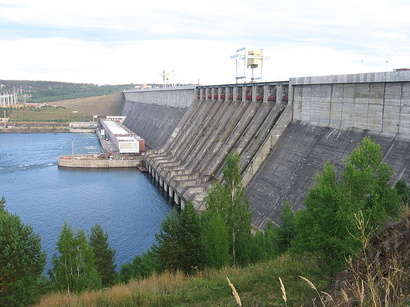 By Kamila Aliyeva
The National Bank of Tajikistan announced the successful debut and sale of government securities on the world market.
A working group from Tajikistan participated in Road Show with major investors from the United States, Britain and Switzerland and successfully presented the offer and sale of securities worth $500 million to complete the construction of Rogun hydroelectric power plant (HPP), the bank reported.
As many as 38 percent of the bonds were purchased by investors from the United States, 24 percent - from the UK, 35 percent - from the EU countries and a small part of 3 percent - from Asia.
The investors' requests for the purchase of government bonds in Tajikistan increased to $4.5 billion, according to the National Bank.
During the trip the Tajik working group held talks with more than 300 representatives of major investment companies such as such as Goldman Sachs, Black Rock, Pimco, Morgan Stanley, Fidelity, Wellington Management Group, J.P. Morgan and etc.
The Tajik authorities decided to issue securities worth $1 billion for the completion of the Rogun HPP. The Parliament of Tajikistan on July 21 this year approved the government's proposal for issuing government securities to finance the energy sector.
At the first stage, bonds worth $500 million were put up for sale on world markets.
Approximately $4 billion is needed to complete the country's main energy project - Rogun HPP. About 2 billion somoni have been allocated from the state budget for the completion of the hydroelectric power station this year.
The Rogun HPP is seen as a solution to the energy independence and a tool for economic growth. By implementing the project, Tajikistan will be able to generate about 13 billion kilowatt-hours of electricity annually. This will not only help the country to meet its domestic needs but will also make Tajikistan a major exporter of electricity.
The Rogun HPP construction project was developed during the Soviet era. Construction of the plant was initiated in 1976, but stopped after the collapse of the Soviet Union. Currently, the ambitious project's future mostly depends on the issue of funding.
The HPP is being constructed on the upper reaches of the Vakhsh River in the Pamir mountain ranges, Republic of Tajikistan. The project is being developed by OJSC Rogun Hydropower Plant on behalf of the Government of Tajikistan.
The dam should form a large Rogun reservoir with a total volume of 13.3 cubic meters. The project is criticized because of the location in the zone of high seismicity, landslide and mudflow processes, and the presence of a tectonic fault filled with rock salt under the base of the dam.
---
Kamila Aliyeva is AzerNews' staff journalist, follow her on Twitter: @Kami_Aliyeva
Related News