Kazakhstan's Nazarbayev says power won't be family business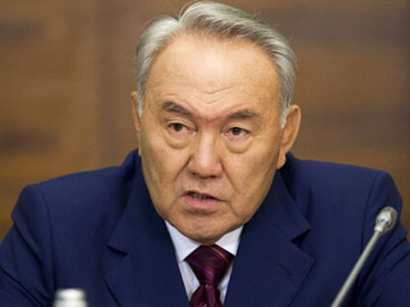 By Gunay Hasanova
Kazakh President Nursultan Nazarbayev has stated that he won't hand power to his children to succeed him.
"I'm not envisaging succession for my children, I don't think that's a question for us," Nazarbayev said in a interview with Bloomberg. "Our transfer of power is spelled out in the constitution," while he won't say anything now about a successor, he said.
"Until 2020, I'm going to work. And we'll meet again in 2020," said Nazarbayev, who won another five-year mandate in a 2015 election." Nazarbayev, who's ruled since 1989, said he'll decide whether to seek a new term based on his health and the level of public support.
Rumors about Nazarbayev's handing the power to his family members appeared after Nazarbayev's daughter Dariga Nazarbayeva was elected the chairman of Senate Committee on Foreign Affairs, Defense, and Security.
Dariga Nazarbayeva earlier served as Vice Prime Minister in the former government.
Dariga Nazarbayeva also refuted the rumors that she is going to succeed her father as the president, calling them speculations, RIA Novosti reports.
"I see myself as a person who truly and faithfully serves to the motherland, and as a member of our president's team. This entire guessing is just a speculation," Nazarbayeva said earlier.
Kazakhstan is a presidential republic. Executive power is exercised by the government and legislative power is vested in both the government and the two chambers of Parliament.
Currently, Kazakhstan is ranking on the 50th place in terms of Government Efficiency Index. The efficiency Index includes expenditures, workload regulations, and political transparency. It beats a number of European countries in government efficiency.
---
Gunay Hasanova is AzerNews' staff journalist, follow her on Twitter: @gunhasanova
Follow us on Twitter @AzerNewsAz