9 September 2014 12:53 (UTC+04:00)
1 476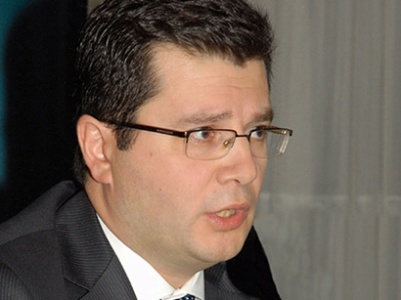 By Sara Rajabova
Baku has slammed Armenian foreign minister over his statements criticizing recent NATO declaration that supported Azerbaijan's territorial integrity.
Azerbaijani Foreign Ministry's spokesman Elman Abdullayev said on September 8 that the Armenian side must understand that the continued occupation of Azerbaijani lands and the physical presence of the Armenian armed forces in these areas are a major threat to the process of conflict settlement and peace and stability in the region.
Foreign Minister Edward Nalbandian said during a joint press conference with his Austrian counterpart that NATO's final declaration on the conflicts in Moldova and the South Caucasus contains a language reflecting a selective approach to international laws.
Abdullayev noted that NATO's support for the territorial integrity, sovereignty and inviolability of Azerbaijan's borders and its call for the settlement of the conflicts in the South Caucasus were expressed in a statement adopted by the presidents of the NATO member-states following the summit, held in Wales on September 4-5.
"This again shows that the territorial integrity, sovereignty and inviolability of Azerbaijan's borders are supported by the world community," he said.
Abdullayev went on to note that Nalbandian's protest against NATO's decision shows the hopelessness of Armenia.
Nalbandian said NATO declaration contradicts approaches of the OSCE Minsk Group. He also claimed that it damages the negotiation process and also the stability of the region.
"By casting doubt about the decision of NATO member-states, Armenia once again openly showed its disrespect for the principles of international laws," Abdullayev said.
He stressed that in a manner peculiar to the Armenian leadership, Nalbandian called on the international community to break the rules and principles of international laws.
"Instead of recognizing the occupation policy and its termination, Nalbandian tends to confuse the Armenian society and poorly justify Armenia's diplomatic defeat," Abdullayev added.
Armenia violated the principles and norms of international law with occupying 20 percent of Azerbaijan's internationally recognized territory, including Nagorno-Karabakh and seven adjacent regions, after laying territorial claims against its South Caucasus neighbor that caused a brutal war in the early 1990s.
The UN Security Council has passed four resolutions on Armenian withdrawal from the Azerbaijani territory, but they have not been enforced to this day.
Peace talks, mediated by Russia, France and the U.S. through the OSCE Minsk Group, are underway on the basis of a peace outline proposed by the Minsk Group co-chairs and dubbed the Madrid Principles. The negotiations have been largely fruitless so far.
Related News