11 August 2014 10:03 (UTC+04:00)
1 516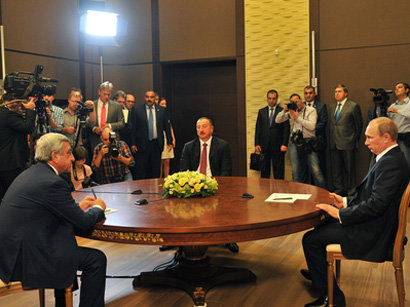 The Nagorno-Karabakh conflict must be resolved, Azerbaijani President Ilham Aliyev said at a trilateral meeting of the Azerbaijani, Russian and Armenian presidents in Sochi on August 10.
"It has been protracted for a long time," President Aliyev said.
"This problem must be resolved," President Aliyev said while appealing to the Russian counterpart.
"I hope that your personal involvement in this process will give a new impetus to the negotiation process. As you stressed, there is a format of negotiations. There is also a legal basis for the conflict settlement. The UN Security Council passed four resolutions requiring immediate and unconditional withdrawal of the Armenian occupying forces from the territory of Azerbaijan. Unfortunately, more than 20 years have passed but these resolutions remained on paper," President Aliyev stressed.
"Of course, I think that Russia, as our close friend, partner and neighbor, has a special role in the settlement process," President Aliyev said. "We hope that in the near future we will find a solution through the negotiations in a peaceful way. And this solution will meet the norms and principles of international law and will conform to justice."
A trilateral meeting on the Nagorno-Karabakh with participation of Azerbaijani President Ilham Aliyev, Russian President Vladimir Putin and Armenian President Serzh Sargsyan was held in President Putin's Sochi residence Bocharov Stream on August 10.
The bilateral meetings have been recently held among Russian President Vladimir Putin, Azerbaijani President Ilham Aliyev and Armenian President Serzh Sargsyan.
The conflict between the two South Caucasus countries began in 1988 when Armenia made territorial claims against Azerbaijan.
As a result of the ensuing war, in 1992 Armenian armed forces occupied 20 percent of Azerbaijan, including the Nagorno-Karabakh region and seven surrounding districts.
The two countries signed a ceasefire agreement in 1994. The co-chairs of the OSCE Minsk Group, Russia, France and the U.S. are currently holding peace negotiations.
Armenia has not yet implemented four U.N. Security Council resolutions on the liberation of the Nagorno-Karabakh and the surrounding regions.
Related News