Senior Russian official: Heydar Aliyev was very wise leader, who played major role in Azerbaijan's formation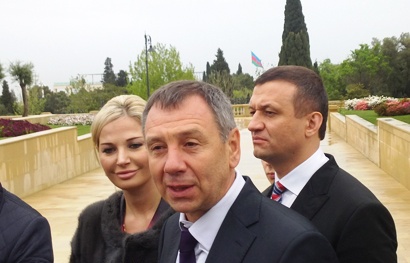 The national leader of Azerbaijan Heydar Aliyev was a very wise leader who played a major role in the formation of Azerbaijan, member of the Public Chamber of Russia, authorised assistant to the Russian president and pro-rector of Plekhanov University Sergei Markov believes.

He said that Azerbaijan, torn by civil war, was able to build a modern economic and political system and achieved unity of the people under leadership of Heydar Aliyev and president Ilham Aliyev.

Markov said that Heydar Aliyev was truly a wise man, and an example for many leaders.

"We wish victory to President Ilham Aliyev at the upcoming presidential elections. I am sure he will get the support of the majority of Azerbaijani citizens. Azerbaijan has blossomed and today is perhaps the only post-Soviet republic which lives better than under the Soviet regime," he said.

Markov also praised Azerbaijan's contribution to the victory of the Great Patriotic War and expressed gratitude to the Azerbaijani people for their great deed.

Markov arrived in Baku in connection with the celebration of the Victory Day.