5 December 2012 13:48 (UTC+04:00)
1 177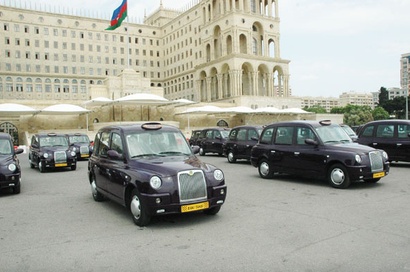 By Nigar Orujova
The next five batches of London Taxi TX4 cars will be delivered to Azerbaijan next year, according to Baku Taxi Company, the firm operating the taxis.
About 1,000 London Taxi TX4 cars will be brought to the Azerbaijani capital Baku in February-March 2013, Baku Taxi Company head Ilgar Gasimov told local media.
At present, 1,000 such vehicles are operating under the company.
London Taxi TX4 cars used in Baku are equipped with POS-terminals, which makes it possible to pay with plastic cards.
Baku Taxi Company is currently taking steps to introduce modern technologies, which will simplify the taxi call system and include taxi calls via the Internet or via mobile applications as well as some new services.
Manganese Bronze said in November that steering fault was found in the London Taxi TX4 cars. However, Gasimov said this problem does not affect the left-side Baku taxis as it was found in vehicles only with the right-side steering system.
The agreement to supply 1,000 London Taxi TX4 cars to Baku was signed with Shanghai LTI, a joint venture of Manganese Bronze Holdings PLC and Chinese car manufacturer Geely Automobile Holdings Limited, in 2011 and is the largest contract for the London-based company, at a total cost of $27 million.
Baku Taxi Company was established under the Azerbaijani Transport Ministry's development program aimed to replace the old taxis and to ensure passenger transportation in line with the highest standards.