New building of AZERTAC inaugurated [UPDATE]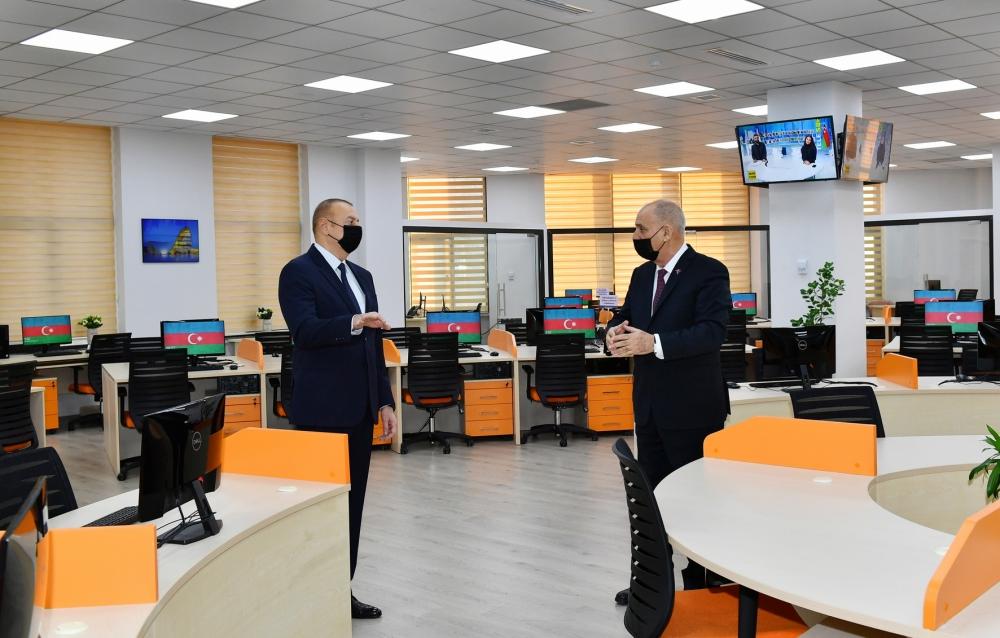 Azerbaijani President Ilham Aliyev got acquainted with the new building of the Azerbaijani State News Agency - AZERTAC on December 27.
AZERTAC Board Chairman Aslan Aslanov informed the head of state of the conditions created in the building.
The new building was built under the relevant presidential order and has nine floors with a basement (parking lot). It has been built in accordance with modern standards and is resistant to eight-magnitude earthquakes.
In addition, it has fire safety and fire alarm systems, two underground water tanks with a capacity of 100 tons each.
A bust of national leader Heydar Aliyev and photo stands describing the participation of the national leader the president and the first lady in various media events, their interviews, were installed on the first floor of the building.
The building has newsrooms and multimedia studios, a conference room equipped for simultaneous interpretation, a canteen, a library, medical and sports rooms. It also has a separate transformer station and a diesel generator station, that meets the emergency electricity needs.
The Agency published its first report on March 2, 1920. Thanks to the resolve, personal authority, and care of national leader Heydar Aliyev, AZERTAC became one of the leading news agencies in the former Soviet republics. It was one of the three agencies which had best equipped to transmit official documents directly over long distances.
By a decree dated March 3, 1995, AZERTAC was granted the status of a state information body. AZERTAC is a bureau member of OANA and UNA. In addition, Azerbaijan, represented by AZERTAC, is currently one of the 13 members of the News Agencies World Council with the right to vote.
Currently, a member of seven regional and international media organizations, AZERTAC has signed cooperation agreements with about 50 foreign news agencies and exchanges information with about 150 agencies.
The agency broadcasts news in eight languages - Azerbaijani, Russian, English, German, French, Arabic, Chinese, and Spanish.
--
Follow us on Twitter @AzerNewsAz