1 October 2014 14:36 (UTC+04:00)
1 591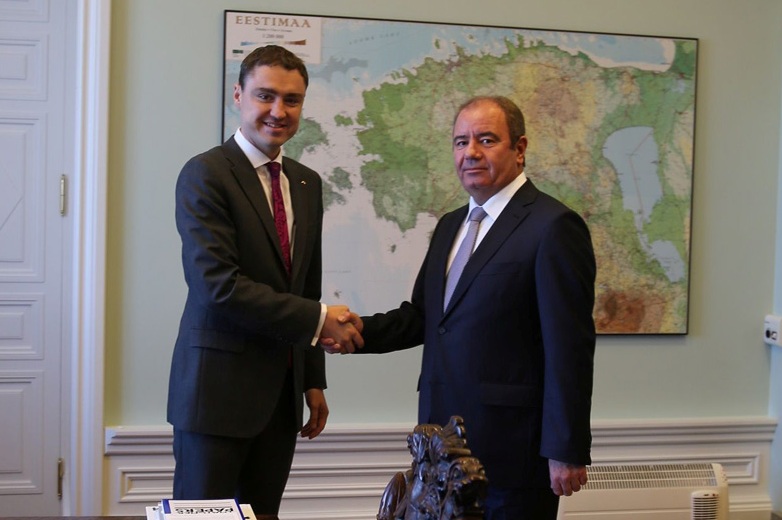 By Nigar Orujova
Azerbaijan supports the idea of expansion of ties with Estonia. To this end, it will contribute to efforts to create favorable conditions for the expansion of business cooperation between two sides, Communications and High Technologies Minister Ali Abbasov said in Tallinn.
Abbasov made the statements at a meeting with representatives of private sector in Estonia held as part of the second meeting of the Azerbaijani-Estonian Intergovernmental Commission on Trade and Economic Cooperation in Tallinn on September 29-30, the Ministry said on October 1.
The report notes that the Azerbaijani delegation headed by Abbasov included representatives of ministries of energy, taxes, foreign affairs, economy and industry, education, culture and tourism, the Central Bank and the State Agency for the provision of services to citizens and social innovations.
The issue of cooperation between Azerbaijan and Estonia in the fields of industry, energy, information and communication technology, finance, customs duties and taxes, transport, agriculture, environmental protection, culture and others were discussed during the meeting of the intergovernmental commission.
The parties also expressed their commitment to implementing a number of joint projects aimed at strengthening economic cooperation between the two countries.
The bases of bilateral cooperation between Azerbaijan and Estonia were laid in the joint declaration signed by heads of the two countries in 2009-2010, the report said.
Taking into account the mutual interest of both parties in cooperation in the fields of industry and energy, several meetings were held both with representatives of government agencies and business circles of Estonia.
In particular, Abbasov met with the Rector of Tallinn University of Technology. He got acquainted with Estonian "Tehnopolis" technological park and visited the e-government Academy which is tasked to use ICT in the public dialogue and democratic governance.
After the meeting, heads of Estonian and Azerbaijani delegations, Urve Palo and Ali Abbasov signed a protocol, the report said.
Bilateral relations between the two countries are well developed and the two sides enjoy opportunities for deepening the relations.
Earlier, Estonian Agriculture Minister Ivari Padar praised bilateral relations between Estonia and Azerbaijan in the field of agriculture.
Estonia supports territorial integrity of Azerbaijan and peaceful resolution of the Nagorno-Karabakh conflict.
Related News