Azercell starts Free Smartphone campaign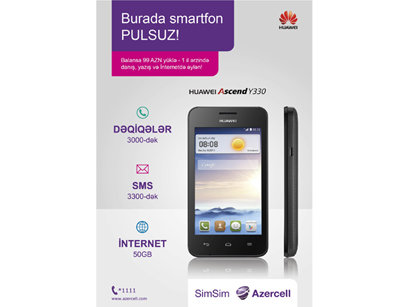 Azercell Telecom, the leader of country's mobile telecommunications market is launching a new Free Smartphone campaign, a message from the company said on July 10.
All SimSim subscribers of Azercell, i.e. new, current, and those ported using MNP, are eligible to join this new campaign between July 9 and December 31, 2014.
Per the campaign rules a subscriber visits Azercell's dealer shops or Express office, pays 99 AZN to SimSim number's balance and gets year-long calls to all parts of the country, SMS and Internet, as well as, and most importantly, a Free Smartphone from Azercell. A subscriber can join this campaign only once using the number registered under his name and the charges from the balance will be made against the currently used tariff plan.
Along with the leadership in the field of telecommunication services, Azercell also aspires to lead in other innovative areas, including creating for its subscribers the opportunity to benefit from the latest technologies and solutions. Today the company is capable of expanding its subscriber base both from the technical and customer service perspectives and invites all those, who wish to be part of the 4.5 million subscribers' family to enjoy the advantages of high-quality communication, to join its network.
Azercell is committed to providing its subscribers with reliable communication, professional customer care and cutting-edge technologies and solutions, as well to offer them a broad number of campaigns, services and attractive tariffs.
Azercell Telecom LLC was founded in 1996 and since the first years sustains a leading position on the market. Azercell introduced number of technological innovations in Azerbaijan: GSM technology, GPRS/EDGE, 24/7 Customer Care, full-time operating Azercell Express offices, mobile e-service 'ASAN imza' (ASAN signature) and others. With 51 percent share of Azerbaijan's mobile market Azercell's network covers 99.8 percent of the country's population. The number of Azercell's subscribers reached 4.5 million people by late 2013. In 2011 Azercell deployed 3G and in 2012 the fourth generation network - LTE in Azerbaijan. The company is the leader of Azerbaijan's mobile communication industry and the biggest investor in the non-oil sector. Azercell is the part of the TeliaSonera Group of Companies, which has subsidiaries in 17 countries with total number of 186 million subscribers and 27,000 employees.