29 May 2015 11:22 (UTC+04:00)
1 258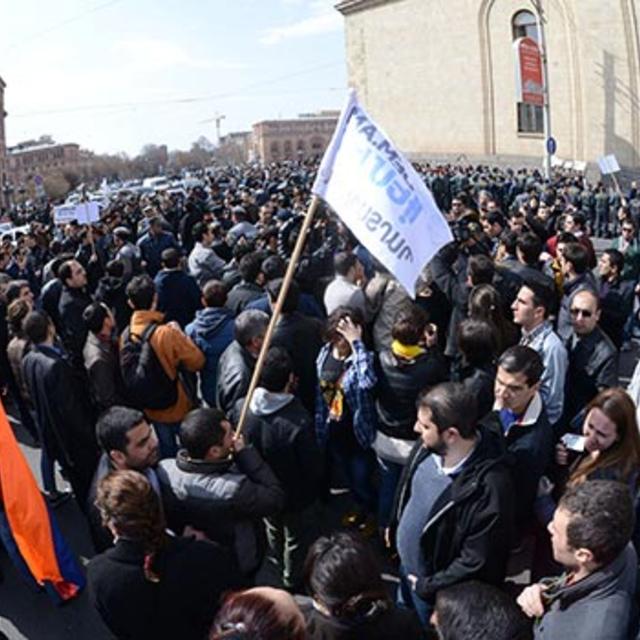 By Sara Rajabova
Following heated debates on the expected electricity price hike in the country, Armenians went on protesting against the rise with slogans "No to rise in electricity price!"
Protests took place in 15 cities across the country, including Yerevan, Gyumri, Vanadzor, Ijevan and Armavir on May 27, Armenian media reported.
Participants of the protest in Yerevan threatened the authorities with an escalation of protest in case electricity tariffs would go up. This price hike is expected to further aggravate pre-existing social difficulties.
Earlier, the government explained its decision to increase electricity tariffs by arguing the need to avoid bankrupting the national power company - the Electric Networks of Armenia. The company earlier requested for an electricity price hike in Armenia.
Representatives of the opposition parliament and non-parliament political forces also took part at the protest in Yerevan.
Organizers of the rally urged Armenians to disobey the price rise - should it indeed take place, by refusing if necessary to pay their electricity bill.
The organizers said about 15,000 people gathered at the meeting, under the watchful eye of the police.
However, the protest wasn't held in calm conditions in all towns of Armenia. During the protest in the town of Aparan eight people were arrested. They were later released, said the representative of the "Armenian National Congress".
Protesters warned that they plan to hold another protest on June 19, after they issued an ultimatum to the authorities saying they are obliged to prevent the electricity price hike in the country.
Protests in Armenia were coordinated by a Facebook initiative group "No plunder" and supported by the Armenian National Congress Party.
Many in Armenia believe that the rise in electricity tariffs will consequently trigger a price increase for first necessity goods in a country already plagued by a miserable economic situation.
Representative of the initiative group "No plunder" Levon Zakaryan urged protesters to continue the struggle, because the rise in electricity prices will lead to an increase in prices of other goods and services.
Earlier, nearly two dozens of ARF Dashnaktsutyun students' union protested against the electricity price rise near the building of the Armenian government. They demanded that the authorities establish control over the expenses of the nuclear power plant.
The Armenian Ombudsman also voiced concern over the expected electricity price rise in the country.
He warned that should the rise in prices prove to be artificial, it would equate to a violation of human rights.
Ervand Zakharyan, Armenia's minister of energy and natural resources attempted to calm down the people by voicing his expectation that electricity prices will not rise by 17 drams ($0.04), adding he personally was not satisfied with this situation.
The current tariff on ENA for the population stands at 41.85 drams ($0.09) per 1 kWh / day and 31.85 ($0.07) for night. The company proposed to increase prices up to 58 and 48 drams respectively.
--
Sara Rajabova is AzerNews' staff journalist, follow her on Twitter: @SaraRajabova

Follow us on Twitter @AzerNewsAz
Related News