11 April 2017 18:05 (UTC+04:00)
2 812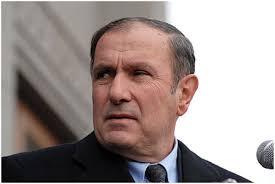 By Rashid Shirinov
Slave with large debts cannot resist the temptation to take a bribe, the leader of the Armenian National Congress (ANC), Armenia's first President Levon Ter-Petrosyan wrote in his article on April 10.
He noted that taking into account the obvious fact that the outcome of the recent parliamentary elections in Armenia was mostly influenced by bribery, many are trying to blame not the Armenian government but the people.
"However, the country is entirely in the hands of corrupt government officials, punitive law enforcement, monopolist-entrepreneurs and criminal authorities, who completely control the destiny of the people, doomed to the status of slave," Ter-Petrosyan noted.
President Serzh Sargsyan's Republican Party won the parliamentary elections of April 2 by obtaining almost half of the total vote. During and after the elections, a number of Armenian politicians, local and international observers and journalists noted that the parliamentary elections in Armenia had many violations and frauds. The observers from the Council of Europe, OSCE, the European Parliament and other international observers indicated these violations in their statement following the elections.
Ter-Petrosyan noted in his article that if an Armenian citizen is countering to bribery, the government does it forcibly – by threatening him with problems for his son, serving in the army, for his child, studying at school or university, or leaving that person without work, and through other kinds of threat.
"Therefore, when people take the bribe, the ones to blame are not the people but the Armenian authorities, who put them in such a humiliating position," Ter-Petrosyan stressed.
Meanwhile, the demands to cancel the results of the parliamentary elections remain actual in Armenia.
The opposition bloc Congress-PPA (Armenian National Congress and People's Party of Armenia), headed by Armenia's first President Levon Ter-Petrosyan, will submit a claim to the Constitutional Court (CC) with the requirement to annul the results of the parliamentary elections due to violations.
This was announced by Levon Zurabyan, Head of the PPA parliamentary faction, on April 10.
Recently, the Congress-PPA has also appealed to the Central Election Commission of Armenia with a demand to recognize the results of the elections null and void. However, the Commission rejected the demand.
"We will focus on our application to the constitutional court, which we consider a very important step," Zurabyan told reporters.
He said that the violations, recorded by cameras at 1,500 polling stations, will be reasonably presented to the CC.
However, Zurabyan doubted that Congress-PPA will achieve the cancelling of the election results due to the puppet regime existing in the government agencies.
"Although we have no illusions regarding the puppet CEC and CC, at least we will present our arguments, the evidence, all of which will be recorded and they will have to give an answer," he said.
Related News