Modern Art Museum, Azerbaijan's avant-garde art hub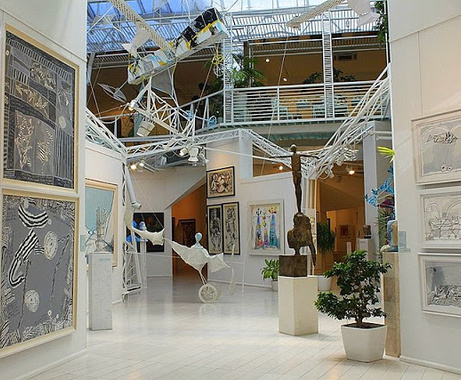 By Nigar Orujova
People interesting in art can't put an end to their visit to Baku without taking a look at the Modern Art Museum.
The museum that turns six years old this March is located at the Yusif Safarov street 5. About 1,000 works of Azerbaijani contemporary artists are collected here.
Visitors of this place can get familiarized with works of painters and sculptors mainly working in avant-garde, whose names are heard in Azerbaijan and abroad.
The museum basis consists of the collection of the best paintings and sculptures of Azerbaijan from second half of the 20th century up to now.
The collection shows aspirations, strivings and freedom of human soul in the single organism of the museum. This multi- dimensional structure creates the effect of a labyrinth.
You will find yourself in an illusion of a constant movement in this two-storey building painted in white. All these make the space interesting which is itself an avant-garde piece.
The museum is open for innovations and present experiments of Rasim Babayev, Ashraf Murad, Aga Oussejnov, Fuad Salayev, Museib Amirov, Altay Sadikh-zadeh and many others whose works mesmerize the visitors with their novel approaches.
Moreover, the museum exposition consist of great European masters - founders of avant-garde style art - Salvador Dali, Pablo Picasso, and Marc Chagall.
In addition, the museum includes a children's fine arts department, a video hall, a café and a restaurant, a separate hall for private exhibitions, a library, and a bookstore with materials on the world art, architecture and sculpture.
The Modern Art Museum gives the visitors a new vision of the contemporary art through numerous exhibitions it holds around the year.
From February 21 until March 5, the museum will display about 30 paintings by Azerbaijani artist Assim Rasuloglu at an exhibition called "My view to the world." The exhibition will show the artist's search for harmony of shapes in combination of colors and lines.
You can pay a visit to this place which is full of inspiration on Tuesday-Sunday, from 11:00 a.m. to 8:00 p.m.
--
Nigar Orujova is AzerNews's staff journalist, follow her on Twitter: @o_nigar
Follow us on Twitter @AzerNewsAz