12 June 2014 11:21 (UTC+04:00)
1 420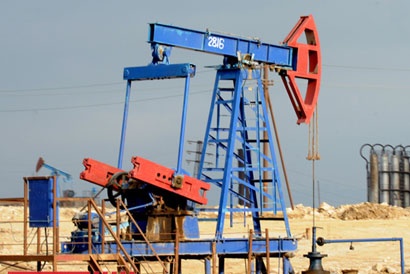 By Aynur Jafarova
Azerbaijan produced some 17.7 million tons of oil and gas condensate in January-May 2014, the State Statistics Committee said on June 11.
This figure amounted to 18.12 million tons in the same period of 2013.
The country produced 43.1 million tons of oil and gas condensate in 2013, compared to 42.98 million tons in 2012.
The most part of the produced oil fell to the Azeri-Chirag-Gunashli block of oil and gas fields and the Shah Deniz gas condensate field in the Azerbaijani sector of the Caspian Sea that are developed jointly with the foreign partners.
Also, Azerbaijan produced around 7.6 billion cubic meters of tank gas in January-May, versus nearly 7.4 billion cubic meters in the same period of 2013.
Azerbaijan produced some 17.9 billion cubic meters of tank gas in 2013, versus 17.24 billion cubic meters in 2012.
Proven gas reserves of Azerbaijan, an energy-rich South Caucasus country, are estimated at 2.55 trillion cubic meters, and oil reserves at two billion tons while the predicted gas reserves of the country are estimated at six trillion cubic meters and oil reserves at four billion tons.
The Shah Deniz field, one of the world's largest gas-condensate fields, was discovered in 1999. Its reserves are estimated at 1.2 trillion cubic meters of gas. Overall, the field has proved to be a secure and reliable supplier of gas to Azerbaijan, Georgia, Turkey, and Europe.
The ACG block of fields has been active since 1997. Production started from the Chirag part of the field and continued successfully, followed by the Azeri Project; Central Azeri production started in February 2005, West Azeri began producing in December 2005, and East Azeri came on stream in October 2006.
The Deepwater Gunashli section launched production in April 2008.
Related News