Azerbaijan, Kazakhstan mull military cooperation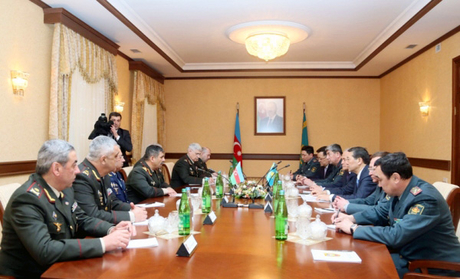 By Aynur Jafarova
The defense ministers of Azerbaijan and Kazakhstan have discussed military cooperation between the two countries.
Cooperation in military, military-technical and military training was high on the agenda of the talks, held as part of the official two-day visit of newly appointed Kazakh Defense Minister Serik Akhmetov to Azerbaijan on April 21.
During the meeting, Akhmetov and his Azerbaijani counterpart Colonel-General Zakir Hasanov discussed cooperation in the areas of military and regional security.
"The main threat to stability in the region is the Armenian-Azerbaijani conflict," Hasanov said at the meeting.
He stressed the importance of resolving the conflict within international law.
Akhmetov, in turn, noted relations between the countries are based on the principles of friendship and brotherhood.
"Kazakhstan and Azerbaijan not only act with close positions on economic, political and military issues, but are also important partners in the issues of the Caspian Sea," he said.
Issues of mutual interest were discussed as well.
As part of the visit, the Kazakh defense minister was received by President Ilham Aliyev.
They said bilateral relations between Azerbaijan and Kazakhstan are successfully developing in various areas, including politics, economy and energy, and expressed confidence that Akhmetov's visit to Azerbaijan will contribute to expanding military cooperation in other areas.
The minister conveyed the greetings and best regards of Kazakh President Nursultan Nazarbayev to the Azerbaijani president.
President Aliyev thanked President Nazarbayev for his greetings, and asked Akhmetov to communicate his greetings to the Kazakh leader.
Akhmetov also held a meeting with Azerbaijan's Prime Minister Artur Rasizade and the two sides discussed cooperation between the two countries.
This is Akhmetov's first foreign visit in his new position. Akhmetov was appointed the country's defense minister on April 3. He used to serve as Kazakh Prime Minister before.
Azerbaijanis and Kazakhs are both Turkic-speaking nations and share close historical, religious, and cultural ties. Both are the littoral states of the Caspian Sea and possess a common maritime border.
About 130,000 ethnic Azerbaijanis live in Kazakhstan.
A solid legal basis has been established between the two countries. Azerbaijan and Kazakhstan have signed more than 90 documents, including 20 documents in the economic field, particularly in double taxation. These documents positively affect the development of trade relations between the two countries.