28 March 2014 17:00 (UTC+04:00)
1 511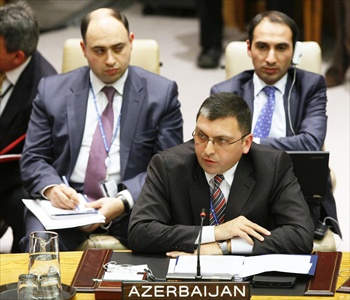 By Sara Rajabova
Azerbaijan condemns extremism, radicalism, and separatism in all their forms and manifestations, Deputy Permanent Representative of Azerbaijan to the UN said.
Tofig Musayev delivered a speech at the UN General Assembly plenary meeting on March 27 on the adoption of a resolution that urged states not to recognize any changes in the status of the Crimea region, the UN InfoCenter said.
He reiterated Azerbaijan's adherence to the fundamental principles of sovereignty, territorial integrity, and inviolability of internationally recognized borders, adding that they constituted the basic foundation of international relations and legal orders.
Hundreds of UN member countries voted in favor, 11 against, and 58 abstained from the resolution on Ukraine.
Prior to the General Assembly meeting, Azerbaijani embassy in Ukraine issued a statement, saying Azerbaijan will support Ukraine's position during the resolution discussions.
"Azerbaijan condemns extremism, radicalism, and separatism in any form, and once again confirms persistent position in connection with international peace and security, including the principles of sovereignty and territorial integrity which form the basis of relations among the United Nations member states and the principles of inviolability of borders recognized by the states on an international level. Azerbaijan supports settling all the conflicts among the UN member states on the basis of the above-mentioned principles through political dialogue," the statement said.
A change of power took place in Ukraine on February 22.The Verkhovna Rada ousted President Viktor Yanukovych, changed the constitution, and set the presidential election for May 25.
Yanukovych said he was forced to leave Ukraine under threat of violence. He remains the legally elected president. A number of areas in eastern and southern Ukraine, as well as Crimea, did not recognize the legitimacy of the Verkhovna Rada and made a decision to hold a referendum on the future situation of the regions.
A referendum on the status of Crimea was held on March 16, in which more than 96 percent of voters voted in favor of joining Russia.
Most world countries issued a statement of non-recognition of the referendum results.
An agreement on the adoption of the Crimea by Russia was signed in Kremlin on March 18.
Related News