13 September 2018 18:14 (UTC+04:00)
1 576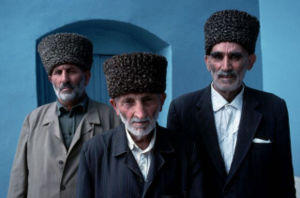 By Naila Huseynli
Living forever might still be impossible, by developing a better understanding of what factors contribute to aging. Moreover, scientists have made remarkable progress in extending human life by almost three decades in the last century.
Recently, the Institute of Physiology of ANAS evaluated the health conditions of Azerbaijani centenarians and revealed that they suffer mostly from disorders of vision and hearing.
Doctor of biological science Ulduz Hashimova said that Alzheimer's disease has not been recorded in longevity patients that they examined. This means that their brain activity is maintained.
"Centenarians are phenomenon. They are stress-resistant. Thus, the majority of men in our last research are those who fought from the first days until the end of the Great Patriotic War," she said.
Hashimova added that there are several reasons why people live long in the country.
"First of all, adaptive-compensatory mechanisms are stronger. The second reason is the hereditary factor, and the third cause is the environmental factor and lifestyle. Hereditary and environmental factors usually stipulate each other. Thus, longevity is transmitted from generation to generation in a satisfactory ecological environment. Reproductive stage of centenarians takes considerably longer. For example, 96-year-old Muslum Feyziyev who lives 1,600 metres above sea level in Gosmalyan village of Lerik region, had an eight-year-old son," she said.
She also mentioned that lifestyle and nutrition are of great importance to be centenarian and almost the majority of them are believers.
"They are sanguine according to the type of nervous system. They have their own view of life. Centenarians have strong psychological defenses against the inevitable death and aging factor. Thus, organism of all centenarians operates in "saving mode". They eat and move properly, mostly use dairy products and herbal teas. Compared to other countries, traditional attitudes toward the seniors, special attention and care in the family are one of the key factors of longevity."
Director concluded that at present, the institute has been studying both the hereditary and physiological characteristics of the centenarians and mechanisms of the molecular basis of this phenomenon.

One of Azerbaijan's centenarians was Shirali Muslimov, shepherd, who lived 169 years, establishing an unprecedented record in the history of longevity. Muslimov's soviet passport stated that he was born on March 26, 1805.
A unique museum, located in one of the most picturesque corners of country-Lerik region, is dedicated to the way of life of the region's phenomenal people. Currently, the museum has 1,200 exhibits of up to 150 long-livers.
Here you can also find information about Majid Aghayev who lived 136 years, the 128-year-old Abdul Huseinov, Molla Hasrat Melikov who lived 125 years and the 120-year-old Nani Ahmadova.
---
Follow us on Twitter @AzerNewsAz