National gymnast wins silver at FIG World Championships [UPDATE]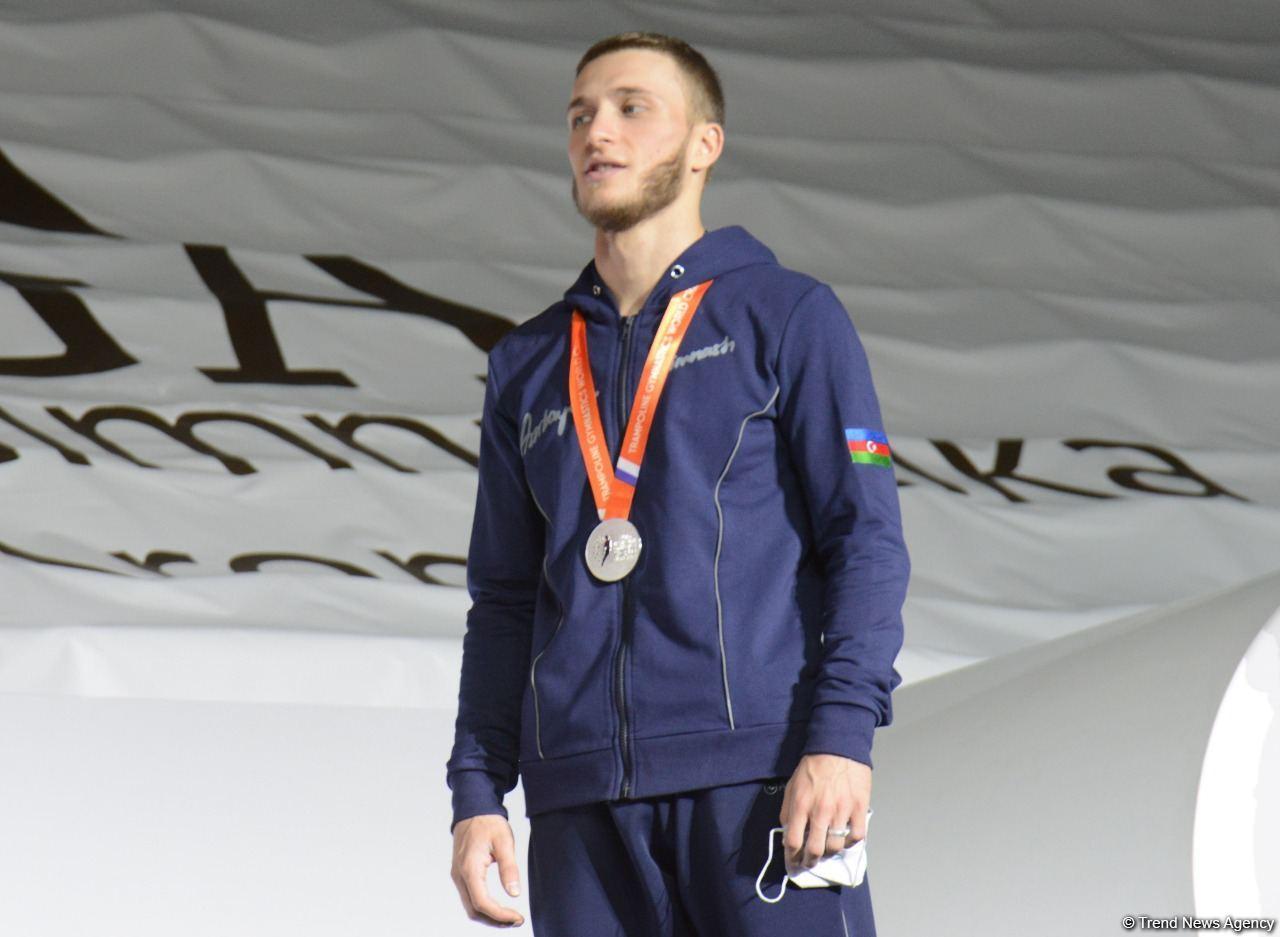 By Laman Ismayilova
Azerbaijani gymnast Mikhail Malkin has successfully performed in the tumbling final at the 35th FIG Trampoline Gymnastics World Championships in Baku.
The gymnast scored 76.300, a sum of points for two attempts-38.300 and 38.000 points.
"Each medal won is a new competitive experience," the gymnast told media.
He noted that he came out for the final with severe back pain.
"After qualifying, my back was very painful, I could not even move. At that moment, I wanted to give up the competition, because I could not even walk. However, my friends supported me and gave me hope. I am very grateful for them. The coaching staff told me: "Clench your teeth and jump twice." I didn't want to let anyone down, so I picked myself up and performed at the Championships. Initially, it was decided to perform with more difficult program. But the coach advised me to performed with program that I presented at the European Championship. Now I am going through a recovery time, since there is no training in the near future," he said.
Speaking about the gymnastics events, Mikhail Malkin expressed his support to his teammates that will performed at 28th FIG Trampoline Gymnastics World Age Group Competitions in Baku next week.
Around 270 gymnasts from 33 countries took part in the 35th FIG Trampoline Gymnastics World Championships in Baku.
Totally, 15 sets of awards were awarded at the World Championships.
The closing ceremony featured a parade of flags of the participating countries.
President of the International Gymnastics Federation (FIG) Morinari Watanabe addressed the closing ceremony.
"What a nice World Championships! Thank you, Baku, for staging such a great event in this difficult period! We have seen fantastic performances in all disciplines. Congratulations to all the athletes who competed fiercely in the different finals. What a fantastic show! We must applaud the excellent organization," he said.
He also expressed his gratitude to the Azerbaijan Gymnastics Federation and the organizing committee.
Next, the Secretary General of the Azerbaijan Gymnastics Federation Nurlana Mammadzadeh handed over the flag to Morinari Watanabe, and he, in turn, handed the flag to the chairman of the Bulgarian Trampoline Federation Stoyan Dimitrov.
Meanwhile, the 2022 Trampoline World Championships will be held in Sofia, Bulgaria.
---
Follow us on Twitter @AzerNewsAz