6 December 2012 15:30 (UTC+04:00)
1 474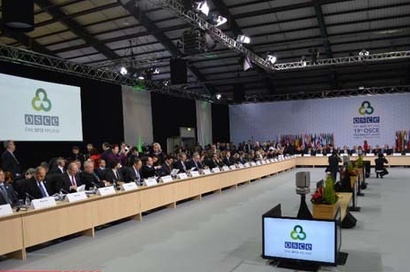 Foreign ministers and top officials from the 57 OSCE participating states heard calls for further efforts to create a security community based on shared values at the opening of the 19th OSCE Ministerial Council in Dublin on Thursday, the organization reported, according to Trend news agency.
"We have made much progress, and we come to the Ministerial Council firm in our resolve to advance our shared aim of a common, comprehensive and indivisible security community; a community of shared values," said Chairperson-in-Office, Ireland's Foreign Minister, Eamon Gilmore, opening the meeting.
He outlined progress made during Ireland's 2012 OSCE Chairmanship on protracted conflicts, particularly on the Transdniestrian settlement process, where Ireland has shared its own experience of conflict resolution, as well as on addressing transnational threats. He also highlighted his country's efforts to promote good governance by sharing its work on seizing criminal assets.
Acknowledging ongoing difficulties the Chairperson urged ministers to work together to adopt a balanced set of decisions, including on human rights issues such as media and Internet freedom and combating racism and xenophobia, as well as on good governance and military cooperation.
Referring to recommendations presented to him from civil society representatives following a parallel NGO event on Wednesday, the Chairperson added: "OSCE participating States have already formally recognized the need for protection of human rights defenders, but concrete work in this area remains disappointing and is something that requires further attention in the months and years ahead."
He also urged ministers to adopt Ireland's Helsinki+40 proposal that set outs a roadmap for the OSCE's work as it approaches the 40th anniversary of the Helsinki Final Act in 2015.
Related News