Diaspora organizations urge international community to consider legal and political assessment of 31 March Genocide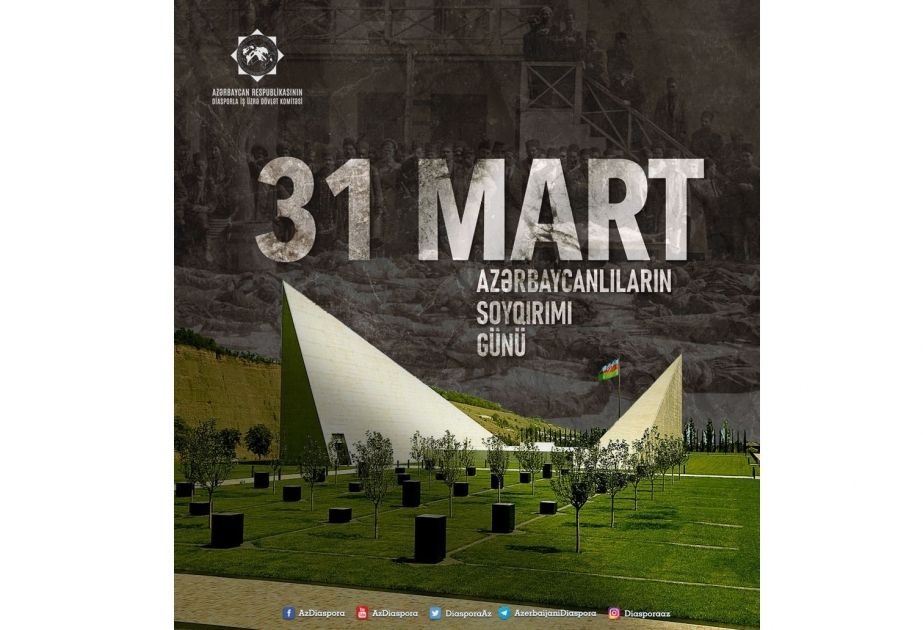 Heads of Azerbaijani diaspora organizations operating abroad have demanded legal and political assessment of the events of March 1918 and recognition of this act as a genocide by the international community.
The statement notes that the bloody massacre committed by Bolsheviks and Armenian armed bandits in Azerbaijan from March 30 to April 3, 1918 is one of the genocides committed by Armenians against Azerbaijanis and all humanity:
"Brutally killing, burning, and torturing tens of thousands of peaceful, disarmed persons is a clear indication of the Armenian cruelty. During the genocide committed by the Armenian Dashnaks, 110 villages of Shamakhi, 167 villages of Guba, more than 150 villages of Karabakh, 115 villages of Zangazur, 98 villages of Kars provinces were plundered and burned down, tens of thousands of peaceful residents were killed because of their ethnic origin or religious affiliation. Ancient Azerbaijani land Irevan and surrounding 199 villages were destroyed and 132,000 Azerbaijanis were killed. The mass grave discovered in Guba clearly proves the genocide crimes committed by Armenians in 1918."
The authors of the statement emphasize that the Azerbaijani state carries out active work for the recognition of the genocide. The Decree on the "Genocide of Azerbaijanis" dated March 26, 1998, signed by Heydar Aliyev, founder of the modern Azerbaijan, gives a political assessment to the bloody events and officially declares that Azerbaijanis were exposed to genocide. Guba Genocide Memorial Complex was established by the Decree of President Ilham Aliyev dated December 30, 2009.
The statement emphasizes that cruelty of Armenians and deportation of Azerbaijanis continued during Soviet time. The international community has not given a legal and political assessment to March 31 genocide and environment of impunity led to next genocides by Armenians.
"We, the representatives of diaspora organizations operating in Azerbaijan and all across the world, support the works done by the relevant bodies of the Republic of Azerbaijan and demand that the international community give a legal and political assessment to March 31 tragedy and recognize it as a genocide."
---
Follow us on Twitter @AzerNewsAz