4 December 2018 19:43 (UTC+04:00)
1 848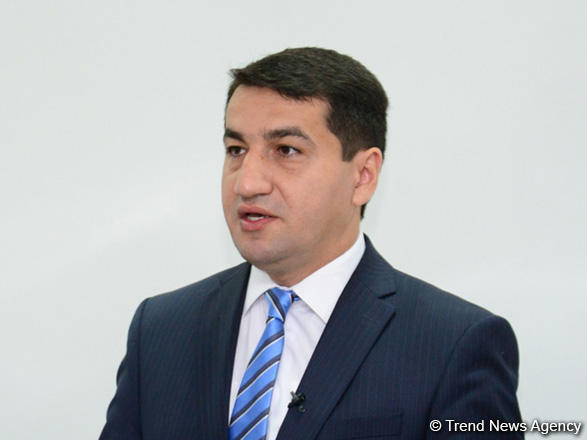 By Trend
After the election in Armenia, Azerbaijan stands ready for substantial and intensive negotiations as proposed and supported by OSCE Minsk Group co-chairs, Deputy Head of the Foreign Policy Affairs Department of the Azerbaijani Presidential Administration Hikmet Hajiyev said in an interview with EURACTIV Dec. 4.
"On 11 November, the world marked the centenary of the end of the First World War," he said. "Lessons learned from the First and Second World Wars are that the use of force against the territorial integrity and sovereignty of states have terrible consequences. Therefore, attempts to change the internationally recognized borders of states are inadmissible."
"If Armenia's new government intends to build a civilized state and provide a decent living for the Armenian population, it must comply with Armenia's international commitments and withdraw its troops from the occupied territories of Azerbaijan as demanded by the four UN Security Council resolutions on this issue," he noted. "Azerbaijani internally displaced persons (IDPs) should return to their homes and justice must be provided."
"Armenia should learn to live in peace with neighboring countries without military aggression and territorial claims and cease its self-isolation," he added. "Thereafter, the military risk factor can be eliminated, the status-quo of occupation can be changed and opportunities for a political settlement of the conflict may arise."
Hajiyev also commented on the talks held between President of Azerbaijan Ilham Aliyev and Prime Minister of Armenia Nikol Pashinyan on the sidelines of the CIS heads of state meeting in Dushanbe in September this year.
"As a result, Azerbaijan once again demonstrated its constructive position and strong determination to resolve the conflict through negotiations," Hajiyev said.
"In Dushanbe, verbal agreement was reached to strengthen the ceasefire regime, to establish communications at low-levels and ensuring commitment to negotiations," he noted. "After the election in Armenia, Azerbaijan stands ready for substantial and intensive negotiations as proposed and supported by OSCE Minsk Group co-chairs. But, unfortunately, contrary to Azerbaijan's goodwill and constructive position, Armenia continues its illegal activities in the occupied territories of Azerbaijan, which are completely detrimental to establishing an environment conducive for negotiations."
Hajiyev went on to add that Armenia pursues the policy of annexation of the occupied territories of Azerbaijan with illegal activities and in this way attempts to strengthen the status quo of occupation.
"Particularly disturbing is the settlement of Armenians from Syria to occupied territories and artificially changing the demographic situation in the seized lands," he said. "According to the humanitarian law and Geneva Conventions, illegal activities in the occupied lands are forbidden. Exploitation of mineral resources of the occupied territories and their export without due diligence and transparency to OECD countries is yet another matter of serious concern. Armenia also destroys the centuries-old cultural heritage of Azerbaijani people in the seized lands. Some of them cannot be restored any longer."
He noted that Azerbaijan is a supporter of multilateralism and international cooperation.
"We also are a staunch supporter of the reform and adaption of the universal institutions and tools to the realities of the modern times," he said. "Baku will chair the Non-Aligned Movement in 2019-2022. [The Non-Alignment Movement is an international organization uniting 120 countries on the principles of non-participation in military blocs]. International peace and security issues are priority topics in the Agenda of the Non-Aligned Movement. Azerbaijan has strong will to contribute to the promotion of these goals during its chairmanship."
"Azerbaijan today plays a role of global security platform where parties with completely different agendas find common ground," he noted. "In this context, it is worth mentioning regular meetings of NATO and Russia and United States and Russia top military leadership in Baku."
He added that Azerbaijan was historically located on the ancient Silk Road.
"The historical experience, the geopolitical location and the will to contribute global trade condition Azerbaijan's active engagement and contribution in building different models of connectivity," he said. "Today, Azerbaijan has the most up-to-date infrastructure in the region consisting of land, air, sea and railroad components of Silk Way. The recently commissioned Baku-Tbilisi-Kars railroad is a vivid example to this end. Since its inception, Azerbaijan supports the One Belt – One Road (OBOR) initiative of China, as well as it welcomes EU's concept of connectivity."
Establishment of transport corridors doesn't just mean freight, he noted.
"Of course, it is more than that," he said. "As the ancient Silk Road shows, it is the collaboration and mutual enrichment of civilizations and cultures. With its modern infrastructure and regional outreach capacities, Azerbaijan contributes to linking Chinese and European markets along East-West corridor within the shorter and efficient time frame. It will generate more jobs, prosperity and stability."
Hajiyev also touched upon Azerbaijan's relations with the neighboring states and said that they are the priorities of Azerbaijan's foreign policy.
"Azerbaijan has friendly and partnership relations with both Turkey and Iran," he said. "We cannot give advice. However, we can share Azerbaijan's experience and lead by our own examples. Azerbaijan pursues a transparent, predictable and independent foreign policy. It does not interfere with the internal affairs of any state, and offers regional cooperation opportunities by finding common grounds between its interests and interests of its partners."
He added that Azerbaijan's cooperation with Turkey and Iran, along with bilateral format, is developing on a trilateral basis and serves for the promotion of mutually beneficial regional partnership.
"Last but not least, based on the reciprocal good will, shared interests and trust, it is possible to achieve successful models of bilateral cooperation," he said.
---
Follow us on Twitter @AzerNewsAz
Related News