9 October 2015 16:11 (UTC+04:00)
2 137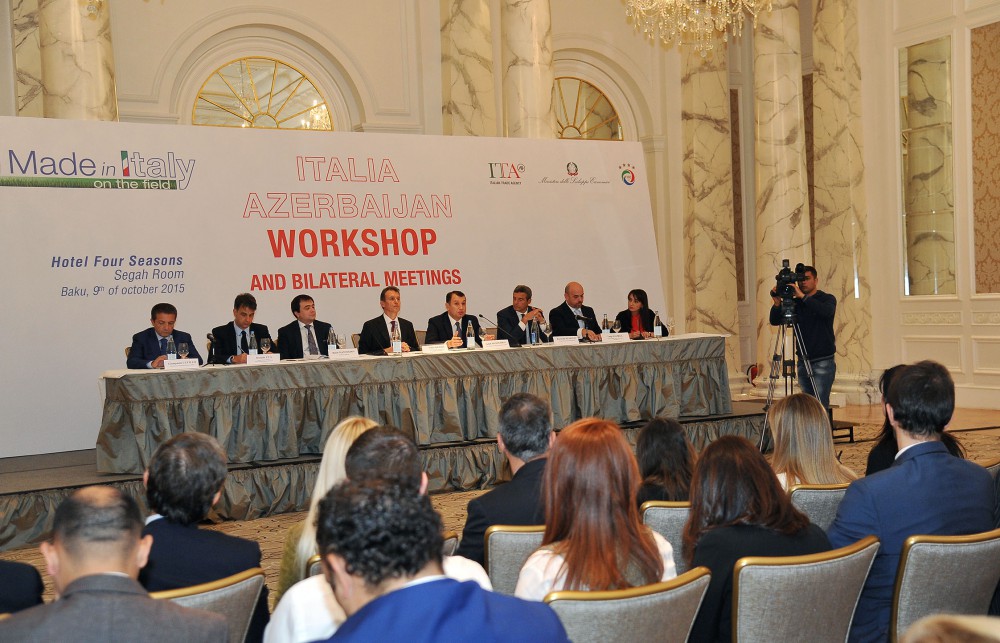 By Nigar Orujova
Italy shows an extreme interest in bringing economic ties with Azerbaijan to a new level, as many Italian companies want to enter the Azerbaijani market.
This remark was mentioned by Riccardo Monti, the president of the ICE-Italian Trade Promotion Agency, to AzerNews during his visit to Baku.
"We served over 500 Italian companies in the last 12 months, so there is a lot of interest toward Azerbaijan, and our office is supporting, advising and guiding every company that needs assistance to be in Azerbaijan," he said.
The Italian Investment Trade Agency is aimed primarily at promoting Italian exports and helping Italian companies to create their presence abroad, and secondarily to attract investments into Italy. The organization is headquartered in Rome and has 70 offices around the world.
"Three years ago we reopened the office in Baku and invested heavily, as we reinforced the office and multiplied our promotion effort by 5 in the last few years," Monti said.
The Baku office has a promotion program with over 50 initiatives and helps to specify how and where to invest in the country.
Monti defined four areas of special interest of Italian companies in Azerbaijan.
The first group includes engineering, equipment and machinery companies, related directly or indirectly to oil exploration and refining, as well as environmental cleanup of oil fields.
Another promising area, Monti stressed, is the construction sector. "There is also an increasing interest from companies in building materials. Whatever goes into a building – from the tiles to the lighting system, carpentry and furniture – Italy is big producer and big exporter."
The agency president also noted the interests of the Italian fashion and jewelry companies. "We have strong jewelry interest. Big fashion brands are very active here. Now, Azerbaijan is also becoming an interesting tourist destination, thus attracting luxury and retailers from Prada to Versace."
The fourth area of interest to Italian companies, according to the Italian official, is alternative energy sector.
"We know, Azerbaijan, as any other oil producing country, is diversifying it energy footprint and Italy has strong capacity in green energy," Monti said.
The trade agency is planning for Italian companies to utilize a new special economic zone in Azerbaijan in the future, to strengthen its presence here.
"We hope to see a very big push from Italian companies to use Azerbaijan also as a base on their way to Central Asia. We expect it to become important probably in the next two years."
Now as Azerbaijan is also accelerating the diversification of its economy, Monti expects to see a push from both investors and Italian companies to create direct offices here.
Baku is currently hosting a two-day bilateral meeting between the representatives of Italian and Azerbaijani companies.
Addressing the event, Monti stated, "To date, Italy has invested more than $480 million in Azerbaijan's economy, only $120 million of which alone was from the non-energy sector. We are going to gradually increase investment in the non-oil sector of the economy."
Azerbaijan Deputy Minister of Economy and Industry Sahib Mammadov, in turn, said being that the volume of investments exceeded $480 million, there is great potential to increase and further develop economic relations between the two countries.
There are 66 companies with Italian investment in Azerbaijan; eight of them are subcontractors in projects financed by the public sector.
Italy tops the list of Azerbaijan's foreign trade partners, with a trade turnover of $1.95 billion in the first eight months of this year, accounting for 13.86 percent of the country's total trade volume, said a report from Azerbaijani State Customs Committee.
--
Nigar Orujova is AzerNews's staff journalist, follow her on Twitter: @o_nigar
Follow us on Twitter @AzerNewsAz
Related News