2013 announced year of ICT in Azerbaijan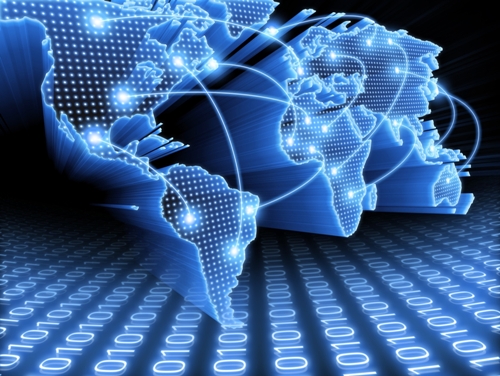 By Nigar Orujova
2013 has been declared a year of information and communication technologies in Azerbaijan, according to a decree signed by President Ilham Aliyev on Wednesday, AzerTac state news agency reported.
President Aliyev announced the measure in his speech at a cabinet meeting on Tuesday. He said that launching the Azerspace-1 telecommunication satellite takes its unique place in the string of the successes reached during the period of Azerbaijan's independence, adding, "I am sure that this event will speed up our future steps in modernization and development. Taking into account this occasion and overall attention and successes achieved in the ICT sector, I am announcing 2013 as the Information and Communication Technologies Year, and I believe that we have to attain even more achievements in this sphere in 2013."
According to the presidential decree, the Communication and Information Technologies Ministry jointly with the Azerbaijan National Academy of Sciences is empowered to prepare and submit a plan of relevant activities to the president, while the Cabinet of Ministers was instructed to solve all issues related to the decree.
According to Isfandiyar Aliyev, head of strategic development at the Communications and IT Ministry, preparation and approval of plans for relevant events to be held this year is the next step to be taken.
"The plan will reflect promising directions and projects to be implemented till the end of this year. Placement of the first telecommunications satellite Azerspace-1, which will be in the orbit in early February, is the most important and crucial event of the year. Development of broadband Internet, which will be funded by Azerbaijan's State Oil Fund, will mark the second large-scale event of the year," Aliyev said.
Achievements and new goals
Azerbaijan has made a leap forward in the ICT sector development in recent years and particularly in 2012.
Some 325.3 million manats ($414 million) were invested in the ICT sector in 2012, which accounted for two percent of the total investment in the country's economy, the communications ministry said.
According to the State Statistics Committee, information and communication services totaling 1.4 billion manats ($1.78 billion) were provided to legal entities and population of Azerbaijan in 2012, which is 15.9 percent more than in the same period of 2011. Some 72.2 percent of the total volume is made up by services rendered to the population.
According to Communications and IT Minister Ali Abbasov, some 103 million manats (about $131 million) have been allocated for the implementation of a broadband Internet development project in Azerbaijan in 2013.
This means further spread of broadband Internet in the country, including remote Azerbaijani regions, and increase of Internet users to 85 percent. Thus, Azerbaijan is expected to reach the level of developed countries on this indicator by 2017.
To date, automatic telephone systems of regional telecommunication centers have been replaced by electronic systems; the length of fiber-optic lines laid by the Aztelekom production association since the beginning of 2012 to connect such systems has reached 2,000 kilometers.
Azerbaijan has maintained its leading position among the CIS countries in terms of broadband Internet penetration over the past three years, Abbasov said.
According to him, Internet penetration rates increased from 65 to 70 percent in 2012. Operations were conducted to improve the quality of data transmission services. The capacity of international communication channels more than doubled compared to 2011 and prices were reduced by 35 percent.
At present, Internet fees for connection speed of 1 Mbit/s account for about 3 percent of the average wage in Azerbaijan. For comparison's sake, the fees are up to 20 percent of wages in developing countries.
Electronic services
Internet is becoming an essential part of Azerbaijani society and the launching of the ASAN service center No.1, created to ensure unified and coordinated provision of services by state bodies, in January is one of the graphic indicators of this trend.
The first service center was established in Baku with the Azerbaijani government's support. In the future, a number of such services are expected to be opened across the country.
The centers' work will be based on the principles of transparency, convenience and efficiency, as well as creation of appropriate conditions for compliance with these principles.
According to the Azerbaijani Internet community chairman Galib Gurbanov, announcing 2013 as the year of ICT will speed up the process of introducing electronic services in state-run and privately owned entities.
Gurbanov believes that along with broadband Internet development, e-services should be expanded. According to him, this ICT year will encourage acceleration of the work in this direction.
"The private sector, which also faces an important task in e-services implementation, should intensify its efforts. Implementation of e-services in banking, trade and other spheres is a tremendous job, in which not only state but also private capital should be involved," Gurbanov said.