EEU and Armenia: danger at gates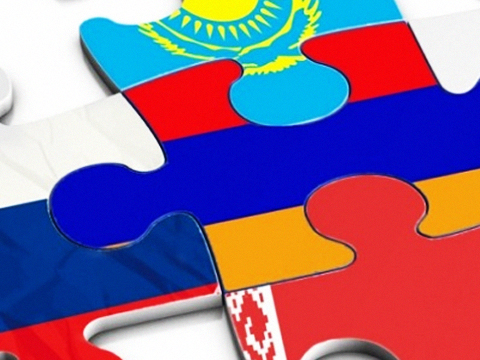 By Mushvig Mehdiyev
Claims on Armenia's weakening control over its security have once again taken center stage after a report dedicated to its Eurasian Economic Union integration highlighted certain significant issues.
The report titled "Armenia - 4 Months in EEU: On Fall or On the Eve of Collapse?" read that Armenia's security risks increased instead of ceasing over the country's four-month-long bondage with the EEU.
Expert at the Political and International Research Center in Armenia, Ruben Mehrabyan said Armenia has limited its chances to balance its position in terms of security in the international arena since it tied its fate with the EEU.
Mehrabyan believes that Armenia's economic progress prospects have been significantly impacted by the EEU decision.
"If it is about the 170-million market within the trade bloc which attracted Armenia that market is now on an irreversible disintegration process. This is a peculiar system to see being dependent on one man's decisions," he noted.
The EEU and Armenia intertwining has been received with much reticence by the population as they regard this new rapprochement as dangerous for the country.
Despite Yerevan's insistence that such membership will help beef up Armenia's security, public concerns have become inevitable when it comes namely to security. Political circles believe that following EEU directives on foreign policy agenda deprives Yerevan of the opportunity of establishing similar ties with alternative camps - western forces in particular.
Armenian President's final decision to join the alliance has come in detriment to an approximation with the European Union.
Following talks that Armenia could end up joining into the EU family, Sargsyan suddenly turned his back on Europe and announced his country would enter in the EEU in September 2013. Upon the announcement both local and foreign experts claimed there had been a so-called "invisible Russian pressure" on Yerevan to not partner with the EU.
Mehrabyan said the ongoing Moscow-Yerevan relations show an obvious strong leverage on the part of the Kremlin to pressure its southern neighbor.
"Russian influence on Armenia has significantly intensified, giving more room to anti-western trends. As a result, Armenia has significantly lost its chances to withstand Russia's pressure. Now Armenia has gone from being a subject into an object of international relations," he noted.
Armenia's membership at the EEU began on January 2, 2015. The country now sits at the same table as Russia, Belarus and Kazakhstan. Kyrgyzstan is also a potential member of this union.
Amanda Paul, a geopolitical and foreign policy analyst and journalist, told Today's Zaman that Armenians are also right to be concerned about the further erosion of their sovereignty in light of the Russian factor.
She said President Sargsyan has certainly not been alone in taking decisions that erode Armenia's independence. In fact, one way or the other, all of Armenia's presidents have made decisions that have allowed Moscow to nibble away at the country's sovereignty.
"It was Armenia's first president, Ter Petrossyan, who cut a deal with Moscow to allow a Russian military base in Armenia and Russian troops on the Turkish-Armenian border to "protect" the country from Turkey. He was followed by Robert Kocharyan, who sold off key infrastructure to Russia related to energy, transport and communications networks," Paul said. "And then came Sargsyan, who has not only brought Armenia into the EEU, but also extended the Russian military base lease at Gyumri for a further 50 years as well as allowing Russia to share its Erebuni airport."
- - -
Follow Mushvig Mehdiyev on Twitter: @Mushviggo
Follow us on Twitter: @Azernews