17 August 2016 10:27 (UTC+04:00)
3 363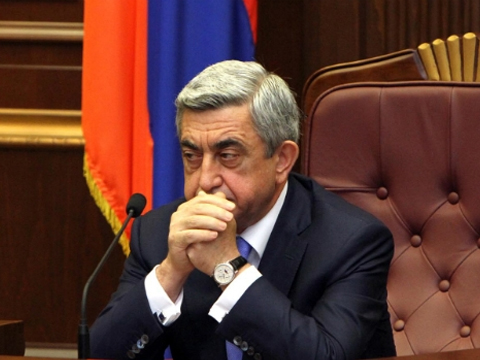 By Rashid Shirinov
Corruption has been the defining characteristic of Armenian politicians for decades. This was stated in a scathing article of Huffington Post showing the current situation in Armenia, governed by a criminal regime.
The article notes that many Armenians support the radicals, who lately seized a police station in Yerevan, for their open corruption accusations against Sargsyan and other officials. Moreover, last year's ElectroMaidan in Yerevan showed that the number of Armenians wishing to take part in the struggle against their authorities, constantly increases.
Despite Sargsyan's recent public speeches about his desire to get rid of corruption in Armenia, the actions of the president and members of his inner circle have frequently contradicted his anti-corruption rhetoric. In August 2015, it turned out that even the head of Armenian anti-corruption council, Prime Minister Hovik Abrahamyan had used government funds to pay for numerous high-cost private flights, the article reveals.
It is obvious that Abrahamyan was an odd choice to head Armenia's anti-corruption council due to his ownership of private companies, gas stations, casinos and many investment properties along with being a Prime Minister. The Armenian constitution prohibits the officials to conduct business. This incident caused loss of public confidence in his anti-corruption council just a few weeks after its creation.
Another serious blow to Sargsyan's "fight" against corruption was the release of the Panama Papers in April. The documents showed that the Major General of Justice Mihran Poghosyan and two of his uncles had established several companies in Panama to obtain Armenian government contracts.
Sargsyan has responded to public outrage over the Abrahamyan and Poghosyan scandals by selectively punishing corrupt officials. Sargsyan dismissed one General and several officials of the Defense Ministry. However, this response did not increase public trust in Sargsyan, because the population considered them as actions "for show".
The president's unwillingness to prosecute corrupt members of his entourage strengthened Armenians in an opinion that members of his circle could commit crimes with impunity. This applies also to criminal offenses.
The former Minister of Transport and Communication Gagik Beglaryan did not receive any criminal punishment for assaulting an official in 2010. On the contrary, he was later promoted to the cabinet because he managed to coerce blue-collar workers to Yerevan streets for supporting Sargsyan during presidential elections.
The obvious evidence of Sargsyan regime's corrupt actions are $45 million spent for the construction of a new training center for tax officials, while $80,000 alone were spent on the purchase of kitchen appliances. The population answered their President with a flash mob with the hashtag "Where's the money?"
Over the past year, many Armenians have protested against corruption of Sargsyan and his political allies. Last month's hostage incident was the culmination of years of frustration with Armenia's corrupt political system.
"If Sargsyan does not punish corrupt officials and reform Armenia's political institutions, anti-government protests and political violence could become an enduring feature of Armenian political life for years to come," Huffington Post emphasized.
---
Rashid Shirinov is AzerNews' staff journalist, follow him on Twitter: @RashidShirinov
Follow us on Twitter @AzerNewsAz
Related News