Annual festivals to delight foodies [PHOTO]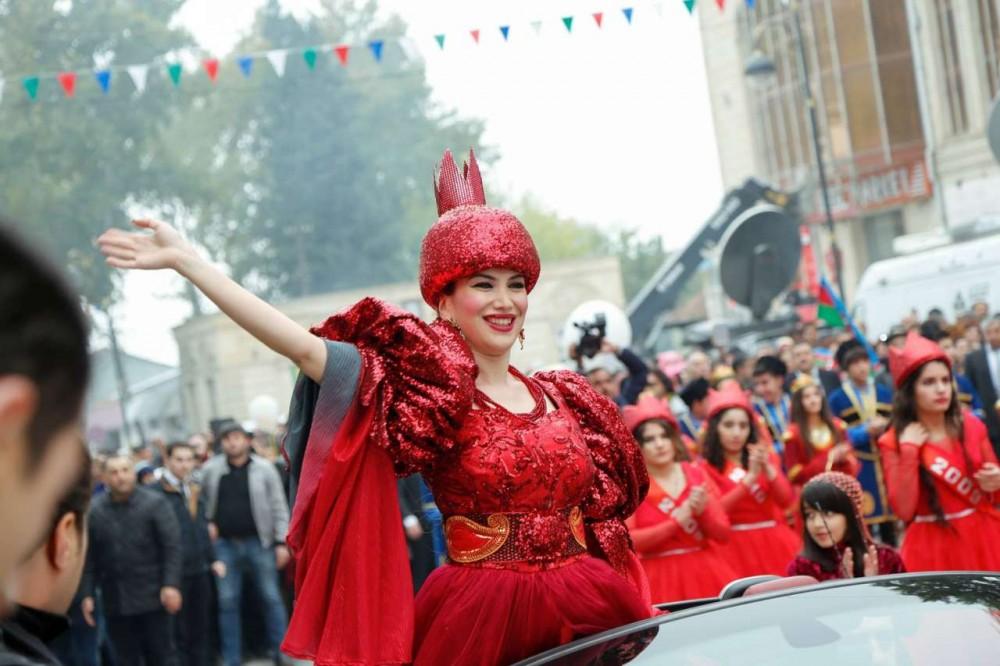 By Laman Ismayilova
Azerbaijan is a magnificent country that is always welcoming its guests. The Land of Fire has much more to offer its visitors.
With breathtaking nature, charming architecture, there are also plenty of delicious festivals that allow you to dive deep into the local cuisine, enjoy traditional Azerbaijani food and much more.
Keep scrolling for some of the country's best food festivals.
International Pilaf Festival
As spring comes, International Pilaf Festival takes place in Baku with the participation of local and foreign cooks. The country has some 200 different pilaf recipes.
Pilaf is usually served on its own dish or plate, with sauces or stews served in separate bowls. Qazmaq, a crust made at the bottom of the pan when the rice is steamed, is highly prized and is served in pieces with the rice or on a separate plate.
Here you will try more than a dozen kinds of this crown dish of Azerbaijani cuisine served with with lamb, greens, chestnuts, apricots, cornelian and raisins.
With fresh and juicy greens, Sabzi Pilaf is especially popular in spring. You can also eat the dish with yogurt mixed with crushed garlic.
Shakh Pilaf (Crown pilaf) is the signature dish of national cuisine. The name of this dish is derived from its shape which resembles the crown of a Medieval Eastern ruler. It is traditionally presented as the main dish at wedding ceremonies in Azerbaijan.
Pilaf Arishta, Lavangi Pilaf, Pilaf Mardi, Gusu Pilaf delight all foodies with diverse flavors.
International Dolma Festival
You can also soak up the sun and enjoy the beautiful summer weather at International Dolma Festival.
The festival features several stands with different kinds of dolma, such as aubergines, tomatoes, peppers and cucumbers as well as made of cabbage leaves, apple and quince and more.
It is traditionally stuffed with ground lamb and/or beef, rice, onions, and herbs. Dolma is best served with cold plain yogurt, and lavash bread.
In 2017, dolma was recognized as the Intangible Cultural Heritage of Humanity by UNESCO.
Here you can also enjoy an evening folk music and concert with a fantastic line up of folk musicians and bands.
International Jam Festival
The country's Gabala region attracts all those who have a sweet tooth.
Every year, International Jam Festival draws in thousands of guests who are eager to taste delicious varieties of Azerbaijani jams or as it called here "murabba".
Jam producers from all over the country and abroad arrive in the city bringing with them hundreds of varieties of natural marmalades and jams.
The famous chefs from all over the world come here not only get acquainted with Azerbaijani jam species, but also show their own unusual kinds of jam.
In 2017, the festival set a unique record: more than 3,500 jams from 25 countries, including 45 cities and regions were presented at the festival.
Moreover, Gabala was named the International Jam Capital last year.
President of the World Culinary Organization, Thomas Gugler presented the corresponding certificate to Sabuhi Abdullayev, the head of the Gabala Region Executive Power.
Apple Festival
Autumn is apple season. Guba, northern-western region of the country has always been known as the region where the best apples of the country are grown.
Traditional Apple Festival is celebrated annually in Guba every October.
The farmers and gardeners present their best apples, including palmet, semekinka, fudji, gizilehmed, which also participle in various competitions, such as the biggest apple or the most delicious apple.
At the same time, music and dance groups prepare interesting shows to demonstrate beautiful samples of the national traditions and music.
Pomegranate Festival
Stunning Pomegranate Festival is traditionally held every year in Goychay region since 2006.
The region is famous for its pomegranate growing industry.
The secret of the perfect taste and quality of the Goychay pomegranates is good climate and fruitful soil. Thus, it is not surprising that all the known varieties of this "fruit of paradise" are cultivated here.
The most popular Azerbaijani sorts of pomegranates are Guloysha, Bala Mursal, Nazik gabig, Shah nar, Girmizi gabig, Shelli cross breeding, Girmizi valas Shahnaz, and Agshirin.
Different sorts of pomegranates and products made of them, pomegranate artistic compositions, national folklore samples, entertaining competitions and sales fair are held as part of the celebration.
Baku Honey Fair
If you have a passion for all sweet things then Baku Honey Fair is a must for you.
Over 300 beekeepers from around Azerbaijan gathered at the fair last autumn.
Honey Fair, first held in 2009, is one of the largest fairs organized in the capital city, with hundreds of bee keepers offering their honey to guests of the event.
The fair guests are able to taste and purchase many honey flavors, including lime, meadow, acacia, crown of thorns, chestnut, sunflower, licorice flower, sweet clover, etc.
Expand your cultural horizons and eat some amazing food while you're in Azerbaijan.
Photos: Azertag
---
Laman Ismayilova is AzerNews' staff journalist, follow her on Twitter: @Lam_Ismayilova
Follow us on Twitter @AzerNewsAz