Russian gas swap profitable for Iran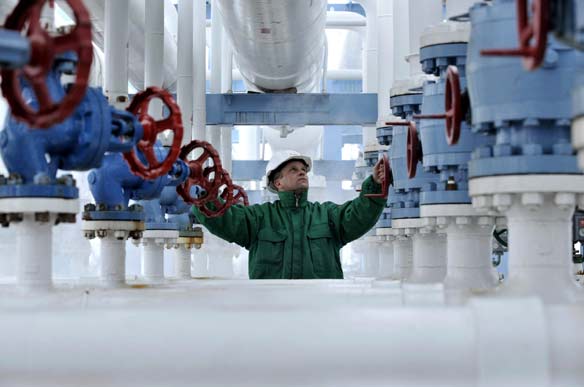 By Dalga Khatinoglu
An Iranian top oil official announced that representatives of a Russian company are scheduled to visit Iran to talk about oil, gas and oil product swaps.
Amir Hossein Zamaninia, the Islamic Republic's deputy oil minister did not reveal additional information about the company or the date of the visit, but Gazprom is the solo Russian gas exporter, while the country's largest oil producer Rosneft has asked the government to end Gazprom's decade-long exclusive right to export pipeline gas in July.
CEOs of both Russian companies were in Iran among a delegation headed by Russian Energy Minister Alexander Novak last month.
The issue of oil and gas swaps was discussed during the visit of Novak to Tehran last month, Zamaninia said, adding that the two parties emphasized concluding contract negotiations on the issue.
Prior to the introduction of sanctions, Iran was an active participant in swap operations, which began in 1997 on the basis of signed contracts.
From 1997 to 2009, total income received by Iran from these swap transactions reached some $880 million.
However, this is first time that Iran is preparing to start gas swap with Russia.
Novak said earlier that Gazprom has offered gas supplies to Iran under a swap arrangement, delivering gas to Iran's northern regions and taking Iranian LNG in Persian Gulf.
Iran has a LNG plant, developed by 50 percent with 10.5 million tons (or above 14 billion cubic meters natural gas) of production capacity annually, which is expected to become operational by 2019.
Russia and Iran are connected with 1474.5-km-long Gazi-Magomed-Astara-Bind-Biand gas pipeline, put into operation in 1971 and Azerbaijan has upgraded it last decade and installed the Astara gas compressor station. However, the delivery capacity of this pipeline is restricted and Russia may deliver only 4 billion cubic meters of gas per year (bcm/y) to Iran's northwestern regions, which equals about 2.9 million tons of LNG.
On the other hand, Russia can open a second rout to Iran through Turkmenistan to deliver several times more gas to Iran.
Both options are profitable for Iran.
Iran has a plan to construct a 1850-km pipeline with 110 mcm/d (40 bcm/y) of gas transit capacity to northwestern regions, aimed to gas export to EU as well. The cost of construction of this pipeline (9th cross-country pipeline) is estimated at $6 billion. Alongside the construction of this pipeline with 17 gas compressor stations, the operational expenditures of 110-mcm/d gas transit from South Pars to mountainous northwestern regions may reach even above $1 billion to $1.4 billion annually.
Iran has also a $4 billion project (11th cross-country pipeline) to deliver 110 mcm/d of gas from South Pars to northeastern regions, of which operational expenditures may reach $250 million to $300 million annually.
Iran is to boost gas production from the current 700 mcm/d to above 1.3 bcm/d by 2020-2021, enabling the country to export 200 mcm/d of natural gas.
Overall, Iran has new agreements to export about 80 mcm/d (almost 30 bcm/y). These include a contract with Iraq, signed in 2013 for delivery of 25 mcm/d (9.125 bcm.y) to serve three power stations in Baghdad, while two countries are negotiating to supply a further 35 mcm/d (12.8 bcm/y) to the southern Iraqi city of Basra. It also has an agreement to supply Oman with 10 bcm/y and an agreement to supply 8.0 bcm/y (22 mcm/d) to Pakistan. Another Gulf neighbor, the UAE, is also being targeted as a possible customer.
Iran announced last week that 2.5 million tons per year of Oman's LNG plant's capacity is useless and Iran can liquefy its gas in Oman plants.
---
Follow us on Twitter @AzerNewsAz