Iran's Persian Gulf Star refinery construction in full swing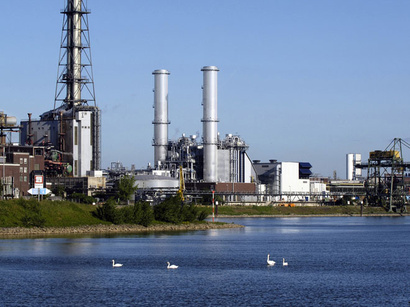 The construction of the Persian Gulf Star refinery, located in south of Iran, has been completed by 65 percent.

The refinery project consists of three phases, each with the capacity of producing 120,000 barrels of condensates.

The produced gas condensates will be used for producing gasoline, diesel oil, jet fuel and liquid gas, IRNA news agency reported.

Over 75 percent of the refinery's gas condensate output will be converted to gasoline and diesel oil.

The refinery is projected to produce 36 million liters of gasoline and 14 million liters of diesel oil on daily basis.

Some $1.5 billion is required to complete the project.

Mehr news agency reported on May 1 that Iran will create a hub for exporting gasoline in the southern city of Bandar Abbas, close to the Persian Gulf, once two gasoline production projects come on stream.

The Bandar Abbas and Persian Gulf Star refineries are projected to produce 50 million litres of gasoline per day.

Gasoline which will be produced by the two refineries will meet Euro-4 and Euro-5 standards.

Four refinery projects are underway in Iran, which will double the country's gasoline production capacity to 144 million litres, IRIB quoted Managing Director of National Iranian Oil Engineering and Construction Company Farhad Ahmadi as saying.

The projects will boost production at Abadan, Anahita, Pars and Shahriyar refineries by 210,000 barrels, 150,000 barrels, 120,000 barrels and 150,000 barrels per day respectively, he added.

Iranian deputy oil minister Alireza Zeighami said on January 25 that seven oil refining projects are underway in Iran with the goal of boosting gasoline production capacity to 110 million liters per day.

The projects will be inaugurated to their maximum by the end of summer, he added.

The projects include Arak, Lavan, Tabriz, Isfahan, Bandar Abbas, Tehran and Persian Gulf Star refineries.

Iran exported over 132,000 tons of gasoline worth around $134 million last year.

According to Customs Administration data, gasoline exports rose by 127 percent in value and 108.5 percent in volume, respectively, compared to the year before.

Armenia, Afghanistan, the UAE, Iraq and Oman were the destinations for Iranian gasoline.

According to official government data, Iranian gasoline imports have slumped by as much as 95 percent over the last four years as rising refinery capacity and lowering fuel subsidies help neutralize Western sanctions aimed at starving Tehran of fuel.