Azerbaijani, Turkish armed forces gather for joint drills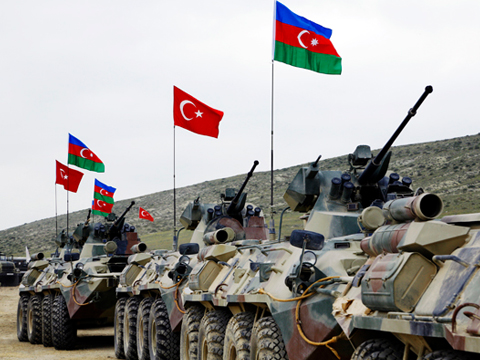 By Mushvig Mehdiyev
Azerbaijani and Turkish armed forces have teamed up for the next joint military drills in Azerbaijan's territory on May 12 on the sidelines of military cooperation agreement.
The armed forces have successfully accomplished the first round of tactical exercises involving a large number of personnel and military equipment.
The Azerbaijani Defense Ministry reported that up to 1,000 personnel, 80 armored military equipment, over 60 artillery systems and mortars, alongside 12 combat and transport helicopters of the Air Forces attended the large-scale training. Moreover, in view of ensuring the air protection of the drills, air defense and anti-aircraft missile units armed with modern defense systems also joined the exercises.
The key purpose of the training is to improve the coordination between Azerbaijani and Turkish armed forces through experience exchange. The military brass of both countries also aim to achieve better interaction of their armed forces by developing joint planning activities of the headquarters and readiness, as well as the combat skills of all units.
The major parts of the exercises will be dedicated to the organization and realization of joint attacks on the enemy's defensive positions - armored units' seizure of favorable positions through the destruction of the enemy's defense line. In terms of air protection, the drills will concentrate on tactical airborne penetration into the enemy's rear and interaction between both the attacking and air protection forces. Such exercises will be carried out throughout the four-day training.
Infantry and tank units, missile and artillery systems, anti-aircraft complexes and helicopters will conduct projectile and rocket launches under the combat firing round of the drills that will last until May 16.
Baku and Ankara enjoy strategic relations in many fields, including the military. Military cooperation between these two neighboring nations dates back to 1992 when they signed an agreement on military education. Since then, the Azerbaijani and Turkish governments have been closely cooperating in both defense and security fields.
In December 2010, both countries signed a range of treaties provisioning for military assistance should any of the party be attacked by third party.
Based on numerous agreements on joint military exercises as part of bilateral progressive efforts towards military cooperation, the Azerbaijani and Turkish armed forces hold regular drills, featuring various tactical and combat tasks. Last September and October, the Turkish air forces co-conducted combat flights within joint military drills with their Azerbaijani counterparts. In March, the Azerbaijani Air Forces, for the first time in its history attended exercises abroad in Turkey in the margins of TURAZ Sahini-2015 training.
- - -
Follow Mushvig Mehdiyev on Twitter: @Mushviggo
Follow us on Twitter: @Azernews