Those responsible for Khojaly genocide should answer before int'l tribune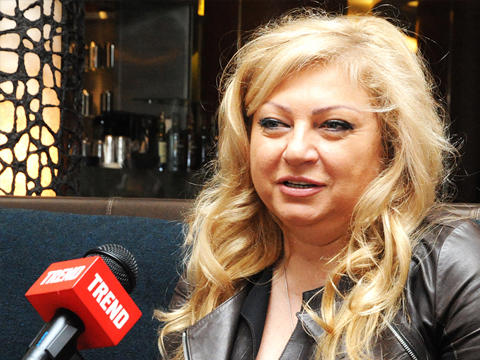 By Mushvig Mehdiyev
Those responsible for the Khojaly genocide should answer to their crimes in an international court of law and bring closure to the Azerbaijani people said a Moldovan ombudsman.
In her comments to Trend agency, Moldova's parliamentary advocate, Aurelia Grigoriu, said Armenia still refuses to recognize the genocide of Azerbaijanis and the Khojaly genocide, continuing instead to push for its own self-made propaganda on the false "Armenian genocide".
"I believe that a special international tribunal should launch an investigation into the genocide in Khojaly since the culprits themselves confess to such bloody actions. The Azerbaijani Prosecutor General's Office has enough evidence and testimony from eyewitnesses in its archives," she said.
Grigoriu noted that an international tribunal should be established to look into the real events which took place in Khojaly by involving the survivors of the genocide.
Genocide is a crime against humanity, and every crime should be considered by the juridical instance, she said.
Explaining Armenia's fallacious cries over the unproven "Armenian genocide", the ombudsman said that due to a lack of evidences, historical facts, records, documents, journalist testimonies and Armenia's rulers deliberate derailment attempts it had been impossible to look into Armenia's claims.
Grigoriu explained that Armenia's cries over its genocide are an attempt to deflect the world's attention from its own crimes, especially since there are no proofs so far confirming any of it ever happened.
"Turkey announced that its archives are open, historians are working, and the information they found in the archives confirms that no genocide took place, and that instead it were Armenians who turned to reckless acts against the Turkish people," she said.
Grigoriu claimed that Armenians' pretending to present themselves as a long-suffering people serves to get some dividends in view of economic advantages.
As for Grigoriu, Azerbaijan is on a supreme position over Armenia in terms of genocide recognition since the survivors of the Khojaly genocide are still alive to tell the tale.
"There should be made haste in this issue, since Armenians are great falsifiers who juggle with evidences and documents to justify their fallacious "genocide" claims amid the absence of living witnesses," Grigoriu said.
Azerbaijani government's consistent dealings with the genocide should go on as the international community needs to know about this crime, added Grigoriu.
"The opinions of all member-states are taken into account when creating the international UN tribunal, and Azerbaijan needs to achieve their votes for establishing such a tribunal," she said.
"As a basis for voting in favor of the tribunal's creation, all member-states need to know that this crime was really committed and that indeed there are people who should be brought to trial," Grigoriu added.
In Khojaly Armenians massacred over 613 Azerbaijanis in 1992 in just one night.
It was under incumbent President Serzh Sargsyan's leadership that Armenia's military massacred its way through the Nagorno-Karabakh region, including the slaughter in Khojaly.
When Thomas de Waal, a senior associate at Washington DC-based Carnegie Endowment for International Peace, interviewed Sargsyan back in 2000, the then-Armenian Defense Minister Sargsyan confessed that the Armenian army had indeed carried out some ethnic cleansing in the Nagorno-Karabakh region in order to achieve its goals.
- - -
Follow Mushvig Mehdiyev on Twitter: @Mushviggo
Follow us on Twitter: @Azernews