Azerbaijan's Diaspora organizations meet in first online forum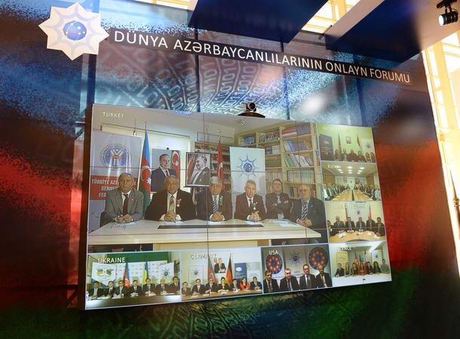 By Aynur Jafarova
Azerbaijan organized the first online forum of the country's diaspora organizations on December 3.
The forum, held as part of BakuTel 2013, the largest telecommunication and IT exhibition in the Caspian region, was organized by the Azerbaijan State Committee for Work with Diaspora with the support of the Communication and Information Technologies Ministry.
Opening the forum Azerbaijani President Ilham Aliyev hailed the role of diaspora organizations in ensuring interests of Azerbaijani citizens abroad.
President Aliyev said strong Azerbaijani diaspora also increases Azerbaijan's opportunities.
The Head of State congratulated diaspora organizations over the forum and wished them successes.
The first online forum has brought together heads of different organizations, including the U.S.-Azeris network (USAN), United Diaspora of Ukrainian Azerbaijanis (ODAU), All-Russian Azerbaijanis Congress, European Azerbaijanis Congress, Benelux Azerbaijanis Congress (BAC), Azerbaijani House in Paris, as well as heads and representatives of diplomatic missions of the country.
Being the most important platform for the display of achievements in the high-tech sector, the 19th Azerbaijan International Telecommunication and Information Technology Exhibition (BakuTel) is being held in Baku on December 2-5.
2013 has been declared the year of ICT in Azerbaijan, which will be reflected throughout the BakuTel exhibition.