3 December 2013 15:02 (UTC+04:00)
1 556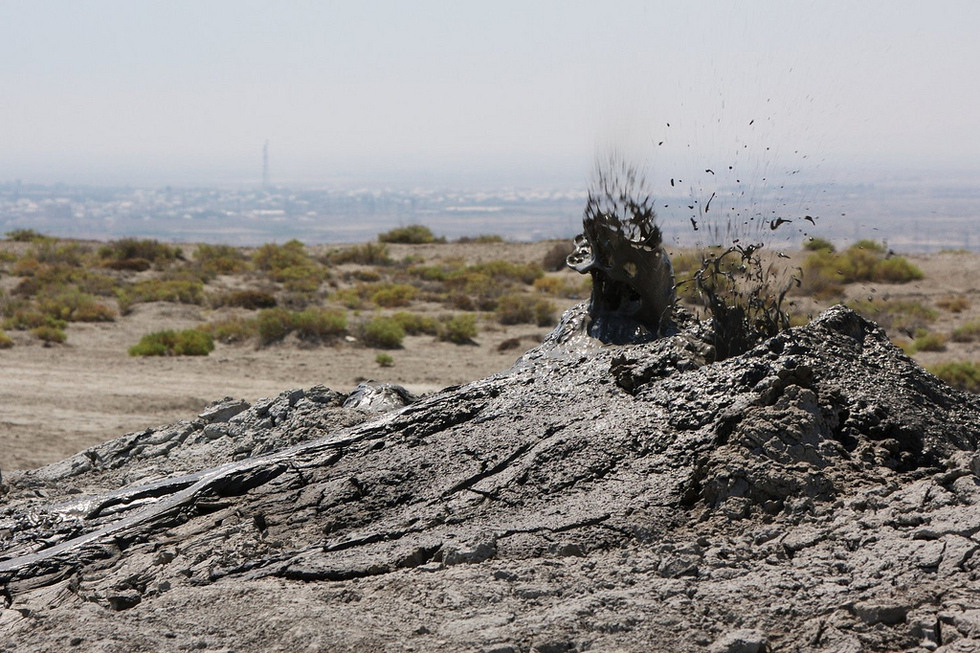 By Nazrin Gadimova
Geology Institute of Azerbaijan National Academy of Sciences (ANAS) studied mud volcanoes from a helicopter, ANAS reported on November 29.
Experts conducted aerial research on the active volcanoes located in the Absheron, Shamakha-Gobustan, and Down-Kura oil and gas areas, as well as the island volcanoes located in Baku.
The results of the research will be included in the "Mud volcanoes of the world" atlas, which is being prepared for publication. During the study, new information about the activity of mud volcanoes was obtained.
Geology Institute Mud Volcanoes Department head Prof. Adil Aliyev said the first aerial photos of Azerbaijan's mud volcanoes were taken as part of preparing and publishing the atlas of the local mud volcanoes in 1971.
Oil and gas-rich Azerbaijan ranks first in the number of mud volcanoes in the world. Over a thousand mud volcanoes are known to exist in the world, and some 400 are located in the coastal area of Azerbaijan and the Caspian Sea.
The world's largest mud volcanoes - Boyuk Khanizadagh and Turaghai - are both in Azerbaijan. Boyuk Khanizadagh, the diameter and height of which are 10 kilometers and 700 meters respectively, erupted on October 10, 2001, shooting out flames 300 meters in the air. It was the highest record for flames shot from a mud volcano.
Mud volcanoes are a fairly widespread geological phenomenon. The dissemination of mud volcanoes usually indicates the existence of large oil and gas basins, so the large number of mud volcanoes in Azerbaijan reaffirms its richness and attracts the attention of scientists from all over the world.
Azerbaijan's rich fields of oil and gas condensate such as Lokbatan, Garadagh, Oil Rocks, and Mishovdag were discovered near mud volcanoes.
The lava, mud, and liquid spewed by mud volcanoes are used as raw materials for chemical and construction industries, as well as pharmacology.
In order to get a better understanding of the nature of mud volcanoes, ANAS Geology Institute holds joint research projects with the German Geological Sciences and Natural Resources Ministry within the Azerbaijani-German international technical and scientific cooperation.
The institute also promotes cooperation with nearly 30 foreign and international organizations and companies such as BP, ExxonMobil, Shell, Chevron, Unocal Corporation, Statoil, ConocoPhillips, INTAS, UNESCO, NATO, the Swiss National Science Foundation (SNSF), and the US Civilian Research and Development Foundation (CRDF).
The instituted also participates in joint studies on modern geodynamic situation in Caucasus collision zone, conducts researches on geodynamic monitoring along the Baku-Tbilisi-Ceyhan oil pipeline, and continues to actively participate in the implementation of the "Scientific Community for Environmental Assessment and Restoration of Water Systems " European program of the Swiss National Science Foundation.
Related News