Turkiye's consul general in Nakhchivan upbeat about ties with Azerbaijani exclave [EXCLUSIVE]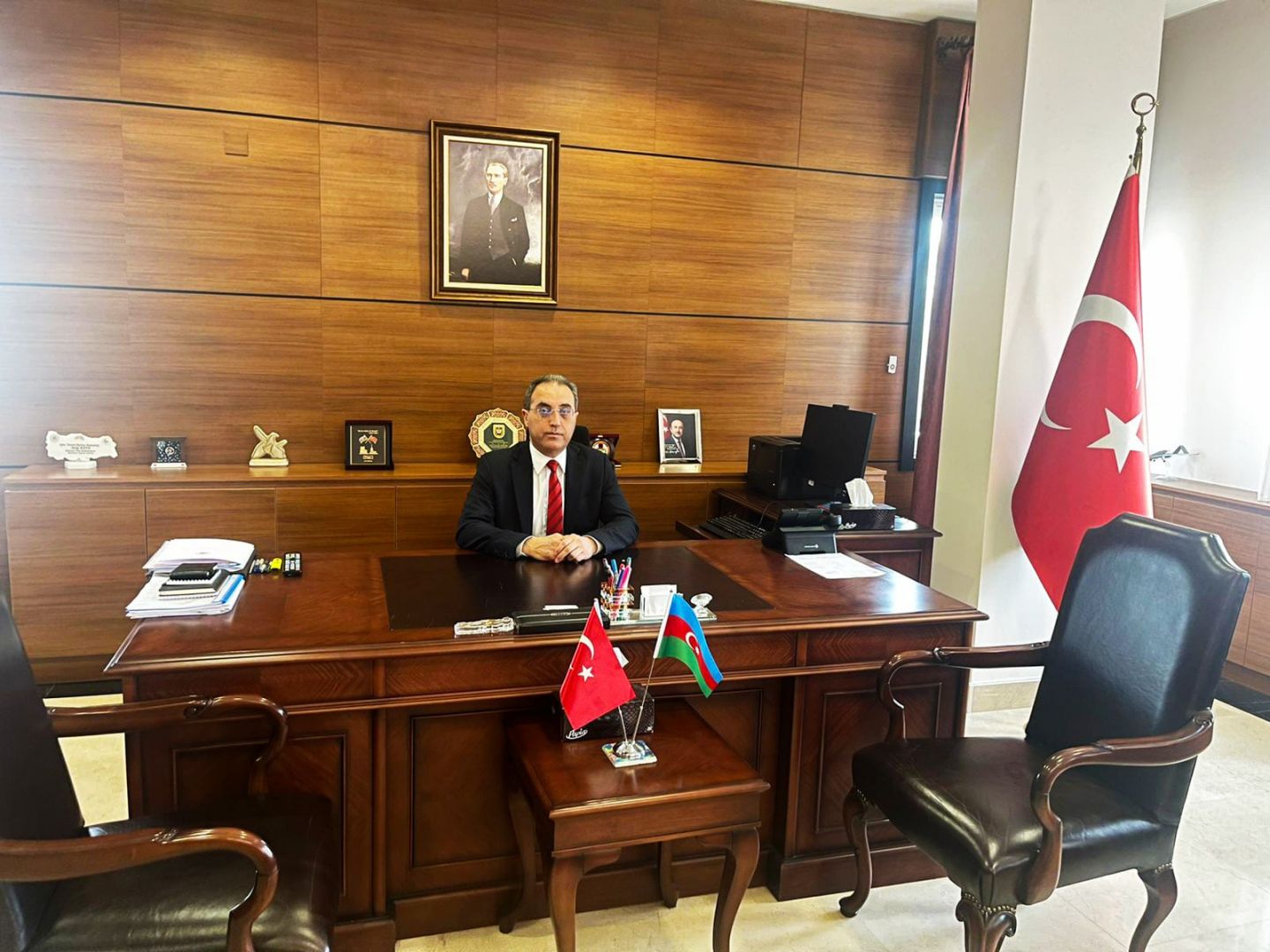 By Susanbar Aghamaliyeva
Turkiye's consul general Asip Kaya to the Azerbaijani exclave of Nakhchivan in an interview with Ph.D. in Philology Susanbar Aghamaliyeva, speaks about his plans to further deepen relations between the region and Turkiye.
Azernews presents the interview:
[Q] Mr. Consul General Asip Kaya, thank you very much for giving this interview. Please tell our readers about yourself. How have you become a consul general?
[A] I was born in 1972 in Igdir and studied at the foreign relations department of Ankara University. I also did a Master's Degree at Lancaster University, UK.
I began my career at the Turkish Foreign Ministry and then worked as the third secretary in Lagos, Nigeria, and the second secretary at Turkiye's NATO representative office. Moreover, I worked in Pakistan, Egypt, Nuremberg, Oslo, and Vienna, where I was the consul general for four years, and came back to Ankara, where I worked for a year at the ministry. On December 15, 2022, I was appointed Turkiye's consul general to the Nakhchivan Autonomous Republic. I am fluent in English and German languages.
I am married with three daughters. Being a consul general and in the diplomatic system is very interesting and if somebody loves his job, it will be very easy and interesting to him. At difficult times, I worked in Pakistan and Egypt. I love my job very much and I am proud of serving my people and doing my best to expand relations between Turkiye and the Azerbaijani exclave of Nakhchivan.
[Q] What is your assessment of cooperation between Azerbaijan and Turkiye?
[A] Relations between Azerbaijan and Turkiye are developing day by day. As we know, political views are always identical. As the great Turkish leader, Mustafa Kemal Ataturk said, "Azerbaijan's sorrow is our sorrow; Azerbaijan's joy is our joy".
National leader Heydar Aliyev described Azerbaijan and Turkey as one nation, two states. Two ideas by the great leaders indicate the real situation between the two nations. The people of Azerbaijan demonstrated unity with Turkiye and supported the people of Turkiye during the February 6, 2023, earthquake.
Azerbaijani rescuers and ordinary people rushed to Turkiye to help the quake victims with caravans of trucks carrying food and other articles of daily necessity from Baku, Ganja, and Nakhchivan to alleviate the pains and sorrow of the quake victims.
Azerbaijan set up hospitals in the earthquake zone in Turkiye as well. Azerbaijanis, including the people of Nakhchivan, ministers, heads of state agencies, especially the Azerbaijani president's representative in the Nakhchivan Autonomous Republic, Fuad Nacafli, expressed their sorrows and uttered nice words on cooperation between Turkiye and Azerbaijan in their letters of condolences on the earthquake.
Our fraternal relations are eternal and the Shusha declaration, signed on June 15, 2021, is very significant in the international arena. Relations in the economic, cultural, and cultural spheres between the two countries develop day by day. I have done my best for the development of relations between Turkiye and the Nakhchivan Autonomous Republic since the day I was named the consul general.
The trade turnover between Nakhchivan and Turkiye has reached $75m. We must increase the amount of trade turnover. Moreover, new cultural projects are underway as well. We have a sincere dialog between the Azerbaijani presidential representative in the Nakhchivan Autonomous Republic, Fuad Nacafli, and others in order to promote relations. We shall do our best to develop cooperation as well.
[Q] Mr. Asip Kaya, what can you say about future cooperation between Turkiye and the Nakhchivan Autonomous Republic?
[A] Turkiye's Foreign Minister Mevlut Cavusoglu has described relations as the best period between Azerbaijan and Turkiye. There is a potential to develop and improve relations between the two countries. We must improve relations in all spheres.
[Q] How will the opening of the Zangazur corridor impact the relations between Turkiye and Azerbaijan?
[A] Nakhchivan has a strategic role in the region. Turkiye's great leader Mustafa Kemal Ataturk described Nakhchivan as a door to Turkiye. Kazım Karabekir Pasa called Nakhchivan the door to the East. As far as I know, the opening of the Zangazur corridor will increase Naxcivan's role in the Turkic world as well. It will help people and trade turnover to increase as well. Hope the signing of a peace agreement between Azerbaijan and Armenia will pave the way for the opening of the Zangazur corridor. The Turkic world will be more powerful after the opening of the corridor.
[Q] Mr. Asip Kaya, have you projects designed to further deepen the relations in the future? What can you say about your future plans?
[A] We have great opportunities to develop relations, and we have some economic projects as well. A trade delegation from Igdir will visit Nakhchivan to discuss the expansion of economic and trade relations. They will meet certain officials of the Economy Ministry of Nakhchivan, Fuad Nacafli, and business people. The sides will have an exchange of opinions on expanding economic relations.
We are working towards opening a branch of the Ziraat bank in the exclave as well. Moreover, the Nakhchivan-Turkiye Trade House will be opened as well. We want to mark the 100th anniversary of Heydar Aliyev and the Children's holiday on 23 April. We also want to have an exchange of experience between teachers from Nakhchivan and Turkiye. Education, art, and cultural relations will also develop. Thus, 26,000 Azerbaijani students study in Turkiye and about 1,300 Turkish students at the Nakhchivan State University. They are bridges between the two nations. I will do my best to further contribute to the development of the relations.
[Q] What are your hobbies?
[A] I am a positive person in life. Although I had difficulties in various countries, where I was appointed consul general and in my diplomatic career, I have always been optimistic. Nakhchivan is the eighth country where I work. Azerbaijan, including Nakhchivan, is dear to me as my own country. As I said, I was born in Igdir and both regions have the same traditions, especially the Novruz holiday.
I loved Novruz very much and it reminds me of my childhood as well. As a diplomat, I highly appreciate positive things in the countries where I served. I like to play tennis and love music and the arts. Nakhchivan has two theaters - the philharmonic and musical-dramatic theaters, and I enjoy them very much. I love Azerbaijani bozbash and overall Novruz food very much. I participated in the Novruz holiday with Fuad Nacafli, the Azerbaijani president's representative in Nakhchivan. I liked the Kosa-Kosa play at the Novruz festival as well. I highly appreciate Novruz festivals in the autonomous republic. One nation, two states. Long Live Azerbaijan and Turkiye fraternity.
---
Follow us on Twitter @AzerNewsAz