PACE turns back from its ideals?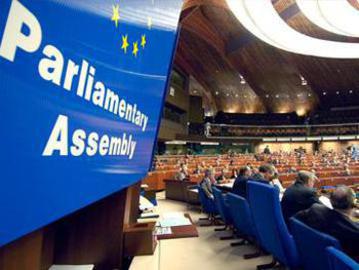 The unjust attitude of the Parliamentary Assembly of the Council of Europe (PACE) has once again reminded one that we live in an age of hypocrisy and double standards.
The latest move of PACE has surprised many and caused regret in Azerbaijan, a devoted friend of Europe.
A biased view towards the strategic partner in the South Caucasus appeared in two documents - "The functioning of democratic institutions in Azerbaijan" and "Steps taken in the field of respect for human rights during Azerbaijan's chairmanship in the Council of Europe" adopted by the European institution during its autumn session.
PACE, by adopting these documents, more likely tried to demonstrate its service to interests of certain people and circles, instead of showing commitment to the real interests of European community.
PACE acts and sees its role almost as an Inquisition court considering punishment to be its prerogative and believes that it can easily interfere in the internal policy of other states.
Such an attitude is fundamentally wrong in the modern world and contradicts the values of Europe itself. Looking to the future, one should ask to what can such a policy lead Europe.
Moreover, if PACE's primary mission is to punish its partners and allies, while having no obligations of its own, what is the meaning of such an institution then?
These two untruthful documents have no other aim than creating a negative image of Azerbaijan, which makes every effort to build strong and independent state, but the issue is that who might benefit from this. It is obvious that some anti-Azerbaijani forces, which compete with Azerbaijan in the energy, transport and other spheres, may be behind the attempts of putting pressure on our country.
Azerbaijan during the period of membership in PACE has regularly faced unfair pressure and demands of this organization. Today's move is just the culmination point.
For many years the Council of Europe has demonstrated a hostile attitude towards Muslim countries. Their attitude is biased by a common view that the arbitrariness - disorder, instability, conflicts, wars, clashes, famine and coups d'etat - reigns in Islamic states.
Of course, Azerbaijan, which today conducts an independent policy, whose military potential, respect, authority in the international arena is growing with each day, but instead of supporting the country, PACE is trying to find something to criticize and complain about.
The independent policy of Azerbaijan does not suit the anti-Azerbaijani network, including a number of states and groups which are willing to discredit it.
By adopting these documents PACE can hardly achieve anything through pressure. Azerbaijan is a strong, independent state with its priorities in policy and that goes its own way.
The artificial oppression of Azerbaijan, which is developing along the road of democracy and is preparing to sign an agreement on strategic partnership with the European Union, once again shows that PACE in the hands of certain interested circles (certain lobbying groups and, in particular, the companions of Armenians) has become a mean of pressure and fulfills a specific order.
Deterioration of relations with Azerbaijan is unacceptable for Europe. The country participates in a number of projects aimed at making Europe energy-secure. Thus, the conclusion suggests itself – Europe needs Azerbaijan as a partner.
Azerbaijan is one of nine Council of Europe member-states currently subject to the Assembly's monitoring procedure, which involves ongoing dialogue with the authorities, regular reports and occasional debates on a state's progress in honoring its obligations and commitments to the organization.
---
Follow us on Twitter @AzerNewsAz