Alexandra Azima Reinhardt presents her books at Baku Book Center [PHOTO]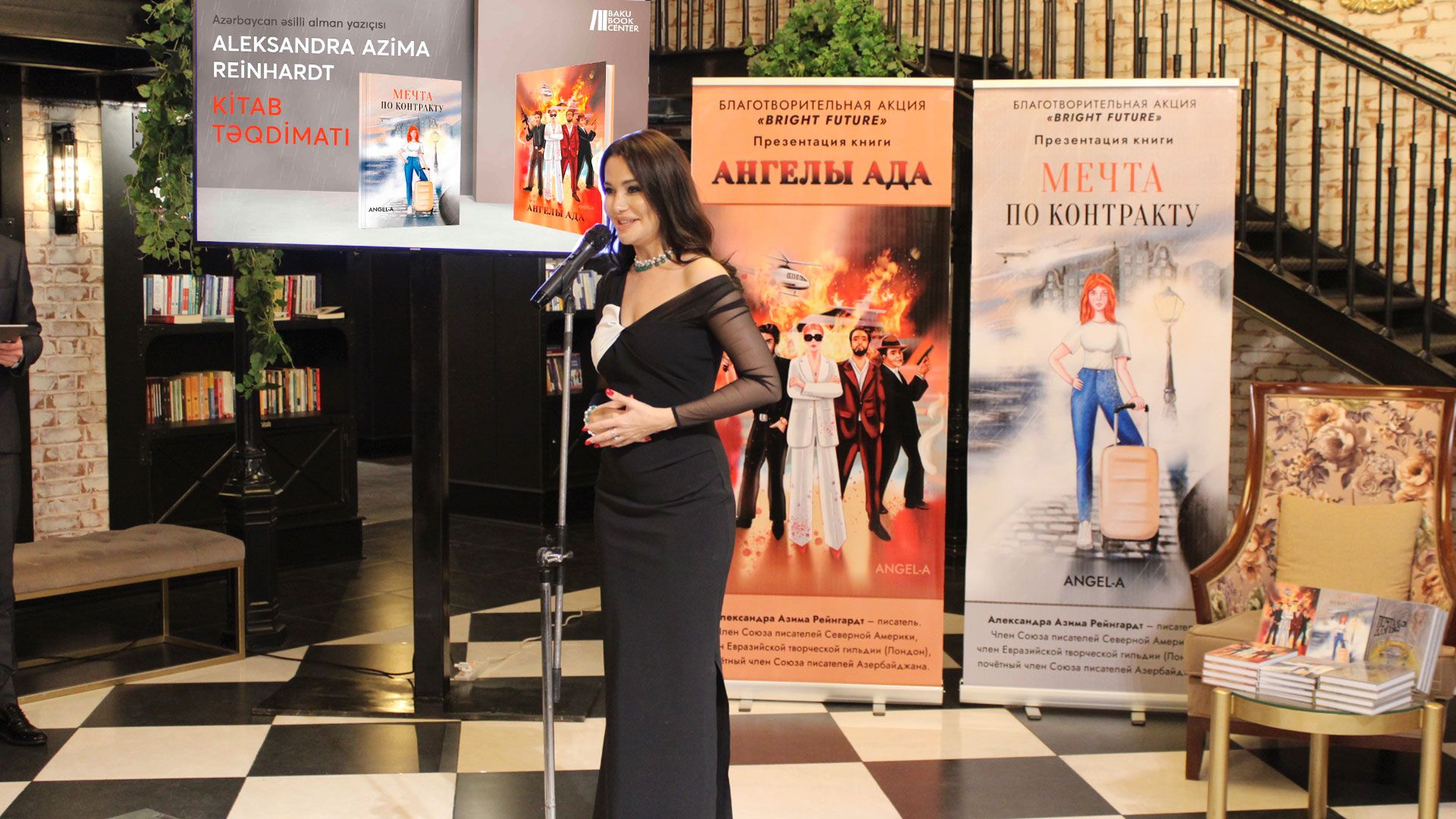 The Baku Book Center has hosted a presentation of the books by the German author of Azerbaijani origin Alexandra Azima Reinhardt "Angels of Hell" and "Dream by Contract", Azernews reports.
Alexandra Azima Reinhardt is a member of the Union of Writers of North America and the Eurasian Creative Guild.
She is an honorary member of the Azerbaijani Union of Writers. The writer also heads the Bright Future charity foundation.
Her books "Angels of Hell" and "Dream by Contract" continue the author's novel "Coffee & Milk", published last year.
People's Writers Chingiz Abdullayev and Natig Rasulzada, Honored Art Worker Jamil Guliyev, culturologist Fuad Mammadov, professor of the Baku Slavic University Flora Naji and others attended the presentation of the books.
Alexandra Azima Reinhardt welcomed the event guests, noting that their support is of great importance to her.
"Thank you very much for your support, it is very important for the author to be read. Any criticism and feedback are important to me, I will be happy to answer all your questions," Reinhardt added.
The Baku Book Center director shared her thoughts about the writer's books with the attendees.
"I have read the first book by Alexandra Azima Reinhardt. I can say that it is worthwhile literature, which I advise everyone to read. Today we are going to have a very pleasant and interesting evening," she said.
In his speech, the first secretary of the Azerbaijani Writers' Union, People's Writer Chingiz Abdullayev underlined that it is an excellent event for the writer when his/her books are published and wished Alexandra Azima Reinhardt creative success.
People's Writer Natig Rasulzada stressed that the author's books are read in one breath.
"Sometimes young authors try to fit all their life experience, all their knowledge, everything that fantasy suggests into their first book, and then there is a pause in their creative activity. However, we do not observe this with Alexandra Azima Reinhardt's work. She has a great imagination, and thanks to her professionalism, her books are read in one breath," Rasulzada added.
Doctor of Historical Sciences, professor at the History Department of the State Academy for Public Administration, and the president of Simurg Cultural Association, Fuad Mammadov, emphasized that Alexandra's books impress with her love for life, truth, and the ability to cover various circumstances realistically.
Professor of the Baku Slavic University, Doctor of Philology Flora Najiyeva noted that the heroine of the books "Coffee & Milk", "Angels of Hell" and "Dream by contract" is a beautiful, daring, courageous, strong woman.
Further, the guests of the event talked with the writer and asked numerous questions about the main character of her books.
Speaking with the audience, Alexandra Azima Reinhardt also shared her further creative plans.
---
Follow us on Twitter @AzerNewsAz