10 March 2014 13:36 (UTC+04:00)
2 604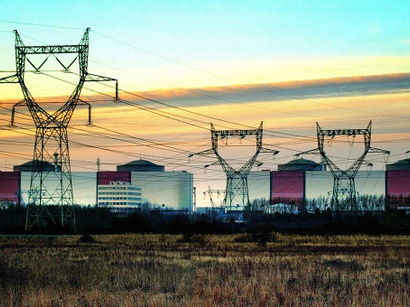 By Nigar Orujova
Azerbaijan will increase the number of its power plants this year.
A modular power station with a 16.5 megawatt capacity is planned to be commissioned in the southern region of Lerik in the first half of the year, report of the Azerbaijani government for 2013 said.
The power plant will be built to provide reliable and stable electricity for Azerbaijan's southern regions, the report shows.
The construction work on ten small hydropower plants with a total capacity of 14.3 MW was conducted in the country in 2013. Moreover, the construction of two small hydropower plants in Goychay-1 (3.3 MW) and Ismayilli-1(1.6 MW) was completed.
The document states that the second combined-cycle plant (409 MW) is planned to be commissioned in the Shimal power plant in Azerbaijan in late 2014.
The construction of the second combined cycle plant is important for strengthening energy security in the Absheron peninsula. The electricity power station meets a quarter of the demand in Baku and Absheron at present.
The figure will reach 35-40 percent with the construction of the second block. The construction of the second unit is conducted under a contract concluded with the Japanese Toyo Engineering Company.
There is one combined cycle tribune at the Shimal power plant (North SDPP) with a capacity of 400 MWat present.
Over 2 billion kW/h electricity export possibility
Azerbaijan's energy capacity grew by 12.9 percent and reached 7,100 MW last year, the report said. The power grid allows for the production of 22-24 billion kWh of electricity, and ensures the export of 2.1 billion kWh.
"The development of the energy complex in 2013 continued at a rapid pace due to the ongoing economic reforms in the country that allowed for further strengthening of energy security," the report notes.
The total amount of electricity produced in Azerbaijan is about 23.2 billion kWh, about 20.8 billion kWh of which accounted for Azerenergy company, the largest producer of electricity in Azerbaijan, and about 748.4 million kWh accounted for State Energy Agency of the Nakhchivan Autonomous Republic. Furthermore, about 1.67 billion kWh accounted for independent power plants, including 1.4 million kWh provided by means of wind energy regeneration.
Azerenergy generated more than 21.5 billion kWh of electricity in 2013, compared to about 21.3 billion kWh over the same period in 2012.
The capacity of power stations owned by Azerenergy exceeds 6,500 MW. It has over 200 substations with a capacity of 500, 330, 220, and 110 kilovolt amperes, as well as eight hydro and 13 thermo power stations.
Related News