Energy Minister: Azerbaijan is determined to realize its strategic goals for its development as green energy country [PHOTOS]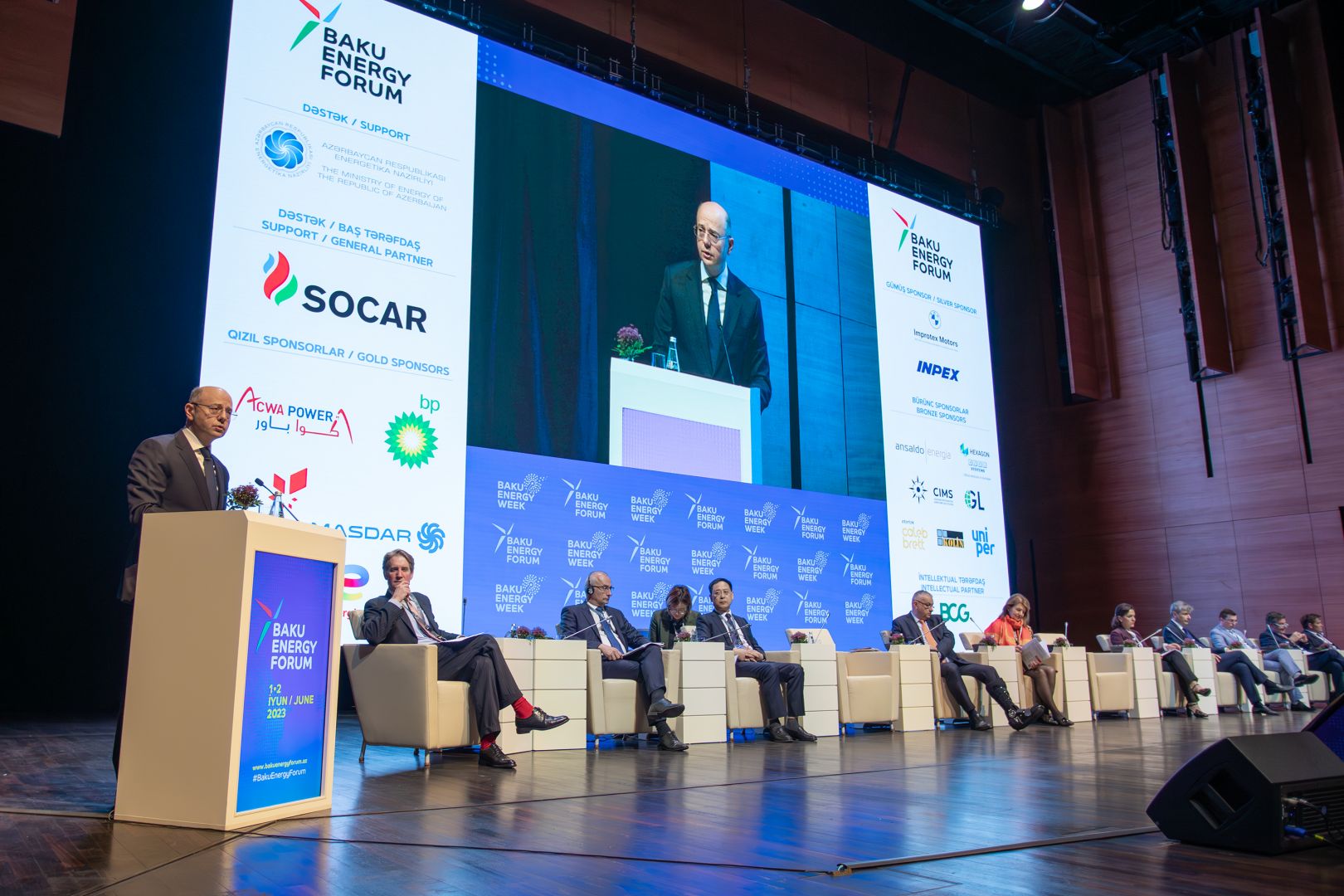 The Energy Minister Parviz Shahbazov made opening speech at the 28th Baku Energy Forum, Azernews reports, citing the Azerbaijani Energy Ministry.
In the speech, it was mentioned that this international energy cooperation platform, which came to existence thanks to the oil strategy of the founder of our energy independence, National Leader Heydar Aliyev, has become a historical chronicle of Azerbaijan's energy achievements.
Emphasizing the formation of a new global energy landscape based on the diversification of sources and routes of safe, stable energy supply, especially the development of green energy, the Minister said that our country is entering this new stage with initiatives that will strengthen its strategic position in energy security on a regional and European scale. The expansion of the Southern Gas Corridor, participation in the Solidarity Ring project, as well as our projects on the development and supply of renewable energy sources are clear indicators of this.
The necessity of increasing the transmission capacity of infrastructures for additional gas supply, coordinated activities and clear position of partner countries for this purpose was emphasized. "Our position was clearly expressed by the President of the Republic of Azerbaijan Mr. Ilham Aliyev. And this is because we plan projects not only from a commercial, but also from a strategic point of view. The development and export of all types of energy resources of the Caspian Sea to World Markets has always been carried out in parallel. Azerbaijan itself has always been the main locomotive of energy routes projects, and this constant line of our energy policy is still relevant today," the Minister added.
Absheron, Karabakh, Umid (Stage II), Babek, Azeri-Chirag-Deepwater Gunashli (ACG) and green energy projects are listed as important sources to provide additional gas. It was stated that more than 1 bcm of gas will be saved due to wind and solar power plants with a capacity of 1800 MW, which are planned to be commissioned by the end of 2026. It was noted that in 2030 another 5 GW of green production capacities will be put into operation, and 4 GW of these volumes will be exported to Europe via the Black Sea at the initial stage, and 1 GW through Nakhchivan to Türkiye and Europe. The minister said that the transformation of Azerbaijan into a green energy country has already begun. Based on the technical potential of offshore renewable energy of 135 GW and onshore 157 GW, today our country is implementing large-scale projects related to the production and export of green energy: "Currently, we are cooperating with Masdar, ACWA Power, bp and Fortescue Future Industries on more than 25 GW of "green energy" projects. Within the Baku Energy Week, we will sign cooperation documents with international energy companies on renewable energy projects for an additional 3 GW. Azerbaijan is determined to realize its strategic goals for its development as a green energy country. The will and determination of the President of Azerbaijan Mr. Ilham Aliyev is our strategic guide in the implementation of this next major energy mission."
The Minister also participated in the discussions on New Energy order in the period of energy transition.
---
Follow us on Twitter @AzerNewsAz