Deepening crisis empty pockets in Armenia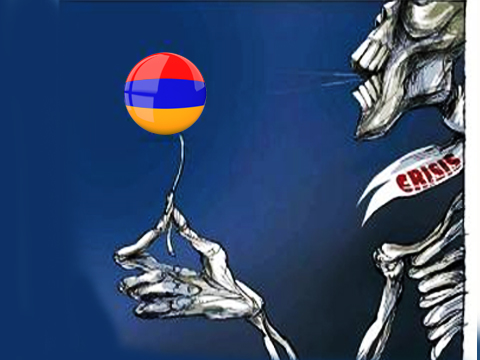 By Laman Sadigova
Armenia is approaching the abyss and the crisis in the country is spreading into in all spheres of the economy.
Asian countries and those of the former Soviet Union are the most vulnerable to the depreciation of the ruble and the yuan, Bloomberg reported.
"While Azerbaijan and Georgia devalued their exchange rates during the past year, other countries, including Armenia, Tajikistan, Moldova, Mongolia, and Nigeria are in danger," say Bloomberg experts.
The devaluation of the national currency boosted inflation to 5.8 percent, compounded by a 15.3 percent fall in the dram rate. This figure was alarming after exceeding the maximum admissible limit of 5.5 percent.
Meanwhile, Armenia is planning to receive a $200 million credit from international organizations. Officials in Armenia hope that this amount of money will help stabilize the financial market and drag the country's economy out of the deepening crisis.
However, these expectations seem suspicious as Armenia suffers shortages in almost every sector. The government's ill-conceived economic policy has pushed the country to the very edge of the cliff.
Armenia has always depended on Russia, having no independent political course and prospects, no recourses, and no alternative options. And now, as the Northern giant suffers from Western sanctions, the small country will stay behind and face a new wave of economic crisis alone.
In addition, protests for the electricity tariffs price hike have intensified and will continue to grow, rocking an already economically-burdened country for the past several months. The Armenian people, angry at incompetent authorities who cannot handle the current situation and are destroying the country, demand a change of government.
The Armenian government has tried to draw the people's attention by frequently staging provocations in a frontline with Azerbaijan. The military government keeps over 20 percent of Azerbaijan's internationally recognized territory under control and supports the separatist regime of Nagorno-Karabakh. An unimaginably large amount of money is being spent on the military, while the one third of population live below the poverty line.
Also, the latest statistical data shows that the unemployment rate has risen to 21 percent of the total 2.9 million population in Armenia.
Whereas the pockets of the Armenian people are emptying, the prices of goods and services are getting higher and higher.
Those terrible statistics data show that Armenia is crumbling from the inside, and the country's future seems not only uncertain, but undoubtedly bad.
---
Follow Laman Sadigova on Twitter: @s_laman93
Follow us on Twitter @AzerNewsAz