U.S. putting pressure on Armenia over captured Azerbaijani civilians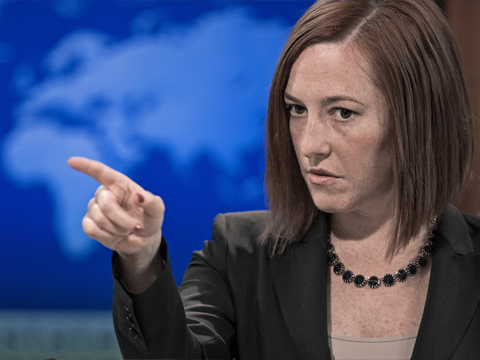 By Mushvig Mehdiyev
The U.S. is outraged by Armenia's refusal to handover civilian Azerbaijani captives it took hostage last year.
Jen Psaki, Spokesperson of the U.S. Department of State, urged Yerevan to release the Azerbaijani captives.
Psaki said the U.S. had earlier called for the release of two Azerbaijani captives, whom Armenian special forces took hostage in Azerbaijan's occupied lands.
"We have had addressed Yerevan via James Warlick, Co-Chair of the Organization for Security and Cooperation in Europe Minsk Group, before. At the same time, we called on the relevant bodies to handover the hostages to Baku," Psaki noted.
Armenian special forces captured three Azerbaijani civilians - Hasan Hasanov, Shahbaz Guliyev and Dilgam Asgarov in the Shaplar village of the occupied Kalbajar region on July 11, 2014, while they were visiting the graves of their relatives.
Hasanov was killed brutally under torture by the Armenian special forces. Dilgam Asgarov was sentenced to life imprisonment and Shahbaz Guliyev to 22 years in prison after a show trial in the so-called "Nagorno-Karabakh republic".
Armenian authorities accused the civilian Azerbaijanis of alleged espionage, unauthorized border trespass, kidnapping and violence against a minor motivated by ethnic hatred in the occupied Nagorno-Karabakh territory of Azerbaijan.
"Armenia and Azerbaijan have turned to ways of returning back the prisoners such as humanitarian gestures, and those gestures have always reduced tension and strengthened mutual confidence. Nuland considered namely that humanitarian steps," Psaki said.
Last week, Victoria Nuland, Assistant Secretary of State for European and Eurasian Affairs at the U.S. Department of State, chided Armenia for inhuman treatment of Azerbaijani captives, expressing serious concerns of the U.S. over Armenia's approach towards the prisoners.
Nuland strongly urged Yerevan to take immediate humanitarian steps for handing over civilian Azerbaijani captives Dilgam Asgarov and Ashahbaz Guliyev to Azerbaijan.
The Armenian authorities criticized Nuland for her remarks accusing her of a biased stance on the hostages' issue.
The U.S. is not the only OSCE Minsk Group co-chair country, who supports the release of Azerbaijani hostages.
Russia, another mediator country, has also revealed its preference for the release of the captives. Russian Foreign Ministry said it would hold negotiations with officials in Yerevan to clarify Asgarov's release. Asgarov is an ethnic Azerbaijani holding a Russian citizenship.
Armenia is still turning down international calls for releasing Asgarov and Guliyev. The issue has come to a deadlock due to Armenia's preference to adopt an aggressive stance towards the captives.
The conflict in Nagorno-Karabakh sparked after an armed invasion of Armenian troops into Azerbaijan's territory in early 1990s. Following bloody skirmishes Armenian armed forces occupied 20 percent of Azerbaijan's internationally recognized and historical territory. The conflict is still waiting for its solution, as Armenia emerges reluctant to obey the UN resolutions and withdraw from Azerbaijan's lands.
- - -
Follow Mushvig Mehdiyev on Twitter: @Mushviggo
Follow us on Twitter: @AzerNews