Armenia to face deeper economic crisis in 2015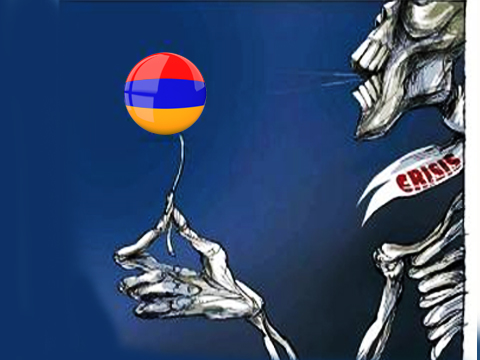 By Mushvig Mehdiyev
A deeper economic crisis similar to that of 2009 will hit Armenia this year, said Bagrat Asatryan, former Head of the Armenian Central Bank.
Asatryan believes that Armenia entered the year of crisis unprepared, saying even the state budget for 2015 doesn't reflect the realities of these days.
"The authorities have made decisions to limit the chances of attracting certain resources from the western countries. Private businesses are reluctant to come to Armenia due to the great risks in the business sphere," he said.
Asatryan noted that Armenia is now following a certain direction to unwillingly connect its economic progress with an economic environment - the Eurasian Economic Union- which has its own characteristics.
He went on to recall the economic crisis in 2009, when the Armenian economy fixed a 14.1 percent decline to be the fourth major country in the world facing a drastic economic downfall, according to official data.
"External debt doubled in 2009 and the government received additional $2 billion to stabilize the value economic national currency. It is clear that Armenia will not have the same source of financial aid this year, in other words, we will not be given that sum of money given the country's economic condition," Asatryan added.
Asatryan noted that the tension in Armenia's financial markets in last December has not finished yet.
"Today Armenia doesn't have the same sources, solutions, which can lead to the regulation of the crisis in the markets. Armenia will end 2015 with a growing number of poor population compared to last year," he said.
According to Hayots Askhkar, a local newspaper, the overall amount of the remittances to Armenia in 2014 has slid to below the indicators in 2008. The Central Bank revealed that the private money transfers suffered a $80 million loss over the last year.
Meanwhile, the Armenian diaspora organizations in France and Lebanon intend to install the world's largest cross in Armenia, according to the local media.
Hranush Hakobyan, Diaspora Minister, said the Armenian government would welcome the mentioned project if the disapora organizations reach a consensus on the issue.
Now, the Armenian leadership and Apostolic church are accused of exploiting the fetishistic speculations over the Christian values to mask their failures and fruitless policy.
- - -
Follow Mushvig Mehdiyev on Twitter: @Mushviggo
Follow us on Twitter: @AzerNews